Rubicon Peso Pluma Lyrics (English Translated Version) – Rubicon is the latest viral Spanish music which is released by the renowned mexican artist Peso Pluma on his official Youtube channel, Peso Pluma. This article aims to provide you with the proper lyrics of Rubicon along with the actual English translation, and meaning of this song.
About The Rubicon Song by Peso Pluma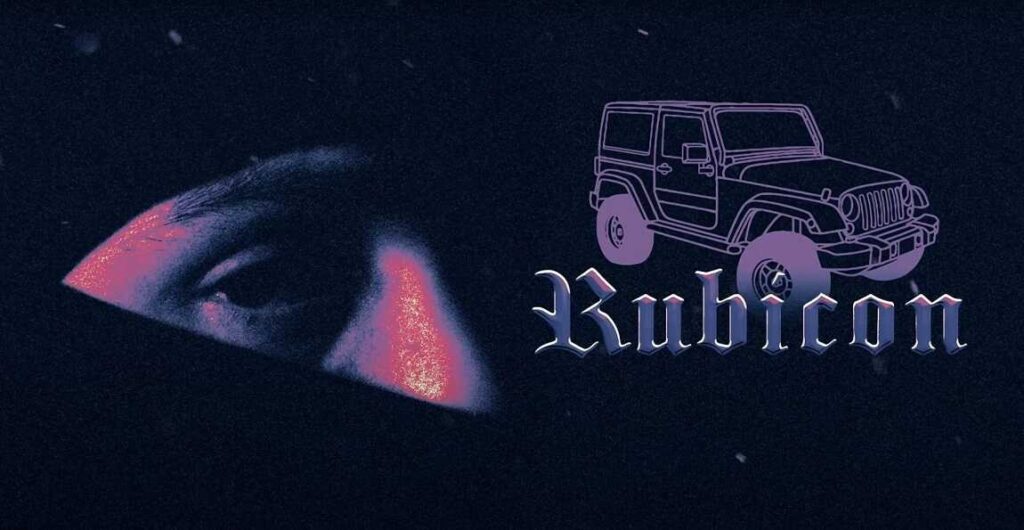 | | |
| --- | --- |
| Song Name: | Rubicon |
| Artist: | Peso Pluma |
| Producer: | Hassan Emilio Kabande Laija, Iván Reyes "Parka" |
| Composer: | Hassan Emilio Kabande Laija |
| Album: | GÉNESIS |
| Release Date: | 23rd June, 2023 |
Rubicon Peso Pluma Original Lyrics (Spanish)
Dicen que soy mamón, también que soy culero
No les pongo atención y muy poco les creo
No sufro de conciencia yo cuido mi cuero
Se me activa el instinto con un buen veneno
Pendiente al celular y también de los medios
Pa' que no haya problema por estos terrenos

Ando bien protegido desde allá del cielo
Te adelantaste hermano, luego nos veremos
Nomas me quedan lo que traigo aquí colgando
Son pocas amistades a mi lado
Me cuidan los collares que traigo en el pecho
Alejan las envidias y a los traicioneros

Y aquí sigo por el camino
Casi siempre me ven tranquilo
Cumpliendo mi objetivo, pienso positivo
Siempre con un gallo, me verán activo
Para trabajar me pinto
Los billetes no caen solitos
Moviendo esos paquetes llenos de cuadritos
Verdes dolaritos puros Benjamines me hacen generar

Ahí me vieron pasar en un Rubicon
suman los Cryptos y bajo control
Nos mantenemos a la orden del señor

Con un gallo me relajo yo
Allá en las dunas siempre tranquilón
Compa ando torcido ya me pegó el blunt
En la orilla del mar me verán
Con hierbita pa' desestresar
Siempre a la orden y aquí voy a estar
Y para qué voy a hablar de más
por Chapin me he de acordar

La bandera es internacional
Efectivo para trabajar en el equipo piñas y también scar
Y para los que quieran afectar, creo en mis santos y en el elegua
Hablando de antes, no voy a volver atrás
Hacer billetes es la prioridad

Y aquí sigo por el camino
Casi siempre me ven tranquilo
Cumpliendo mi objetivo, pienso positivo
Siempre con un gallo, me verán activo
Rubicon Peso Pluma Lyrics in English Translation (Version)
They say that I am a su*ker, also that I am a culero
I don't pay attention to them and very little believe them
I do not suffer from conscience I take care of my leather
My instinct is activated with a good poison
Pending the cell phone and also the media
So that there is no problem for these lands

I walk well protected from beyond the sky
You went ahead brother, we'll see you later
I only have what I bring here hanging
There are few friends by my side
The necklaces that I wear on my chest take care of me
They drive away envy and treacherous

And here I continue on the road
They almost always see me calm
Fulfilling my goal, I think positive
Always with a rooster, you will see me active

I paint myself to work
The tickets do not fall alone
Moving those packets full of little squares
Green little pure Benjamins dollars make me generate
There they saw me go by in a Rubicon
Cryptos add up and under control
We remain at the command of the Lord

With a rooster I relax
There in the dunes always calm
Compa I'm crooked and the blunt hit me

They will see me on the seashore
With herbs to de-stress
Always in order and here I will be
And why am I going to talk about more
by Chapin I have to remember
The flag is international
Effective for team work pineapples and also scar
And for those who want to affect, I believe in my saints and in the elegua
Speaking of before, I'm not going back
Making tickets is the priority
And here I continue on the road
They almost always see me calm
Fulfilling my goal, I think positive
Always with a rooster, you will see me active
Rubicon Song Original Video
User Responses: Connecting Through Music
Music has an incredible power to forge connections and evoke emotions. Since its release, "Rubicon" has touched the hearts of listeners worldwide, creating a ripple effect of reactions.
The users are expressing their enthusiasm and support for the song or album, using phrases like "chingona rolona" (great song), "una chulada de rolón" (an amazing song), and "que buen álbum" (what a great album).
The users are also praising the lyrics, style, and overall quality of the music. Some users mention specific songs from the album, such as "Nueva Vida," "Rubicon," "Lady Gaga," "Luna," and "Lagunas." They express how they relate to the songs or how they appreciate the artist's unique style.
There is a sense of pride in Mexican culture, as users mention their support for Mexico and the artist representing it. There are also references to specific regions within Mexico, such as Nayarit and Texas.
Overall, the users' responses indicate a positive reception and admiration for the music of Peso Pluma or La Doble P.
Let's take a moment to know some of the user responses that highlight the profound impact of these lyrics:
"The poetic beauty of the lyrics in 'Rubicon' is simply breathtaking. It speaks to my soul and makes me reflect on the complexities of life."
"I may not understand the language, but the emotions conveyed through this song are universal. It's a testament to the power of music."
"Listening to 'Rubicon' feels like a therapeutic experience. The lyrics and the melody blend seamlessly to create a mesmerizing journey of self-discovery."
About Rubicon Peso Pluma: Discover the Artist
Before we drive deeper into the meaning behind the lyrics, let's take a moment to get acquainted with the brilliant artist behind "Rubicon." Peso Pluma, a rising star in the music industry, is known for their soulful compositions and introspective lyrics. With a unique blend of genres and a distinct vocal style, Peso Pluma has been captivating audiences worldwide.
Peso Pluma's musical style: A fusion of rhythm and blues (R&B), soul, and contemporary pop, Peso Pluma's music transcends traditional boundaries and speaks to the core of human emotions.
Lyrical prowess: Peso Pluma's lyrics are a testament to their ability to weave intricate narratives and delve into the depths of the human experience.
Rising popularity: With their distinct sound and thought-provoking lyrics, Peso Pluma has garnered a dedicated fan base that eagerly awaits each new release.
The Deeper Meaning: Exploring the Essence of "Rubicon"
Now that we've established the backdrop, let's dive into the essence of "Rubicon" and decipher its deeper meaning. The song takes us on a metaphorical journey, symbolizing the crossing of a threshold and the consequential transformation that follows. It serves as a reminder that life is a continuous series of choices and the importance of embracing the unknown.
The lyrics paint a vivid picture of self-discovery, resilience, and personal growth. Peso Pluma's introspective storytelling evokes emotions and encourages listeners to reflect on their own experiences. Like a compass guiding us through uncharted territories, "Rubicon" urges us to embrace change and confront our fears head-on.
Conclusion: A Lyrical Voyage
In a world where music has the power to transcend language barriers and touch our souls, "Rubicon" stands as a testament to the universal language of emotions. Peso Pluma's artistry, combined with the profound lyrics of this song, creates a captivating experience that resonates with listeners worldwide.
So, next time you find yourself yearning for a musical journey that explores the depths of human emotions, allow "Rubicon" to be your guide. Immerse yourself in its lyrical prowess, let the melodies wash over you, and let Peso Pluma's enchanting storytelling take you on a transformative voyage.
Remember, music has the ability to transport us to places beyond our imagination. Let "Rubicon" be the vessel that carries you through the thresholds of emotion and self-discovery.
Tags: Rubicon Peso Pluma Lyrics with English Translation, Peso Pluma, Rubicon, Spanish Original Version, Lyrics.