Ever since Nayanthara launched her new skincare brand 9Skin last month, fans have been curious to know how the products perform. Now that fellow actress Samantha has received the product range, admirers are eagerly awaiting her review.
On 11th October, Samantha gave her fans a sneak peek by sharing an Instagram story showing the 9Skin products she received from Nayanthara. The accompanying thank you card and ingredients list piqued Samantha's interest, prompting her to write, "These ingredients look amazing, can't wait to try @Nayanthara @9skinofficial All the very best."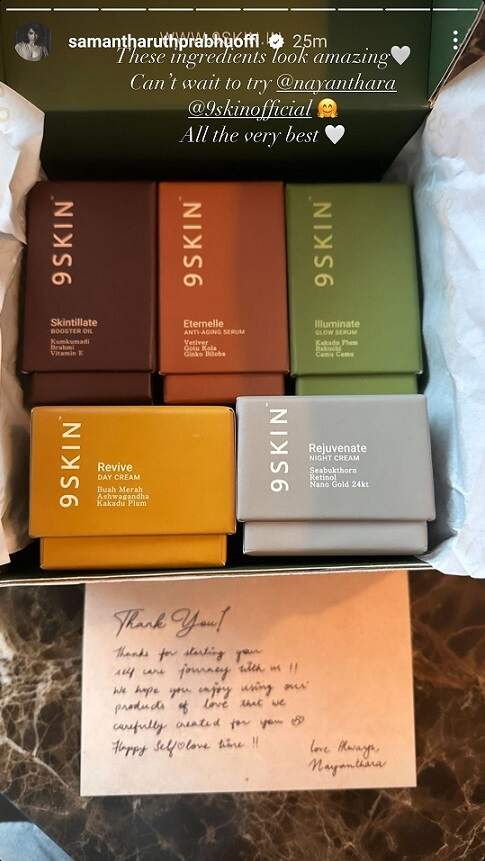 This teaser has Samantha's fans waiting with bated breath for the actress to trial the products and deliver her review. Many have taken to Twitter to express their impatience. One user tweeted, "@Samanthaprabhu2 in her bought of products in 9skin. She is yet to try waiting for 9Skin review.."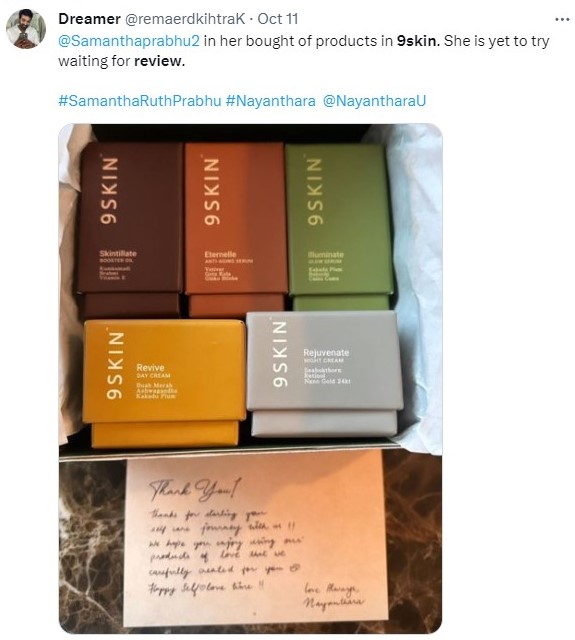 While Nayanthara has faced some backlash for promoting her skincare line in full makeup, the brand makes lofty claims about being cruelty-free, paraben-free and containing high quality ingredients. Samantha's large following puts her in a prime position to determine if the products deliver results.
As a public figure herself, Samantha's review could make or break 9Skin's reputation. Her firsthand experience as a user could lend credibility to the brand in a way promotional campaigns cannot.
Samantha's feedback will also influence whether her fans purchase from the fledgling brand. As one of Nayanthara's contemporaries, Samantha's word carries weight in determining the new brand's quality.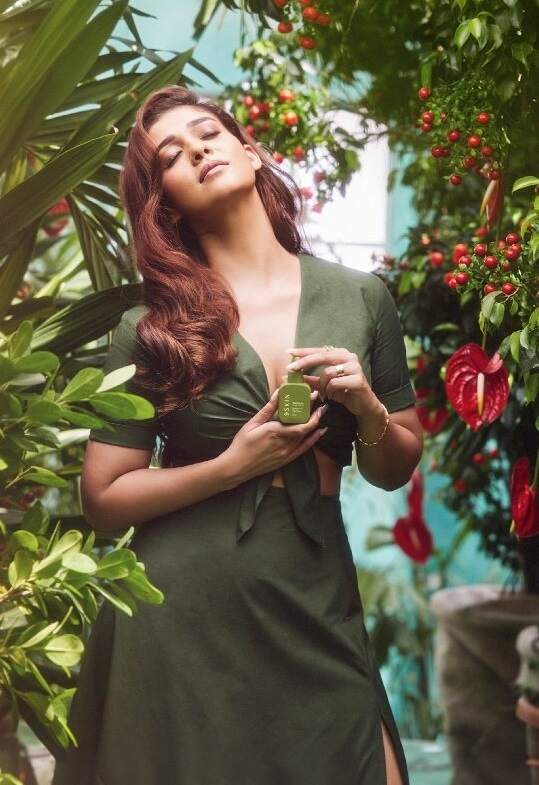 While Samantha has only provided a small sneak peek so far, her fans' outpouring of anticipation signals that her eventual review will be pivotal. For now, followers will have to wait patiently for the actress to thoroughly trial 9Skin and report back. But if her enthusiastic social media following is any indication, Samantha's review will make waves for better or worse.
The stakes are high for new entrant 9Skin as it looks to carve out a niche in the competitive skincare market. With Samantha's legions of fans on the edge of their seats, the brand has an invaluable opportunity to make an impression. For Nayanthara, it could be make or break time, pending her peer's candid review. Samantha's followers will certainly be ready and waiting to weigh in.