Kareena Kapoor Khan has been in the spotlight lately over rumors that she may be expecting her third child with husband Saif Ali Khan. The actress was recently photographed in London with what looks like a baby bump, sparking speculation among fans. But are the pregnancy whispers real or just hearsay? Let's analyze the evidence.
The rumors started when some paparazzi and fan accounts shared pictures of Kareena from her family vacation in Europe. In one photo, she is seen in a black tank top that shows off a protruding belly. Some fans congratulated her on the "good news" and speculated she was hiding a bump under her outfit. However, others pointed out the photo could be distorted or edited.
So where did this baby bump image come from?
The viral photo that triggered all the pregnancy gossip shows Kareena posing with Saif and a friend on their London holiday. She is dressed casually in a black top and white pants. In the pic, her stomach appears swollen and rounded, leading to many jumping to conclusions that she has a bun in the oven.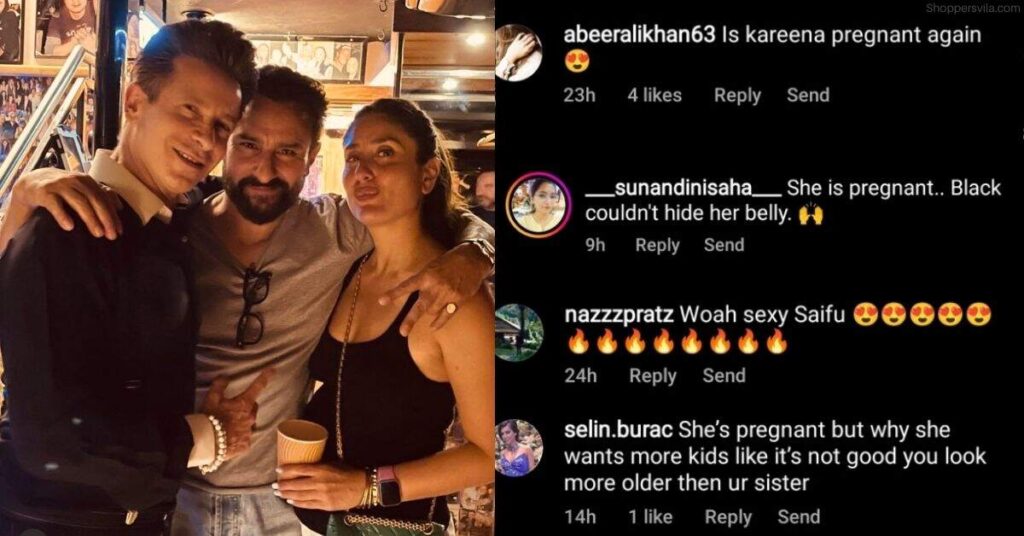 However, the authenticity of the image has come into question. Some social media users noted it looks oddly distorted around her mid-section. Kareena's representative also stated the pregnancy buzz was "untrue" and the viral photo was likely "morphed."
How has Kareena Kapoor herself responded when the latest pregnancy whispers again?
Always one to speak her mind, Kareena directly addressed the swirling speculation head-on. She took to Instagram to issue a cheeky denial, clarifying her protruding tummy was simply the result of "pasta and wine."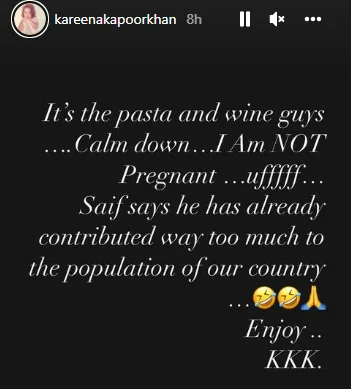 The actress jokingly brushed off the bump brouhaha writing, "It's the pasta and wine guys..Calm down. I Am NOT Pregnant." She also quipped that her husband Saif has already "contributed way too much to the population of our country…. [Laughs Emoji] Enjoy.. KKK."
So straight from the horse's mouth – Kareena confirms reports of baby #3 are false. According to Bebo herself, her bigger belly was just food bloat, not a fetus! Her manager also reiterated that she is "not pregnant at all."
Could Kareena really be covering up a secret pregnancy?
Some fans are still skeptical and think Kareena could actually be concealing a pregnancy under the guise of weight gain. After all, celebrities are known to give misleading statements or bend the truth when it comes to their personal lives.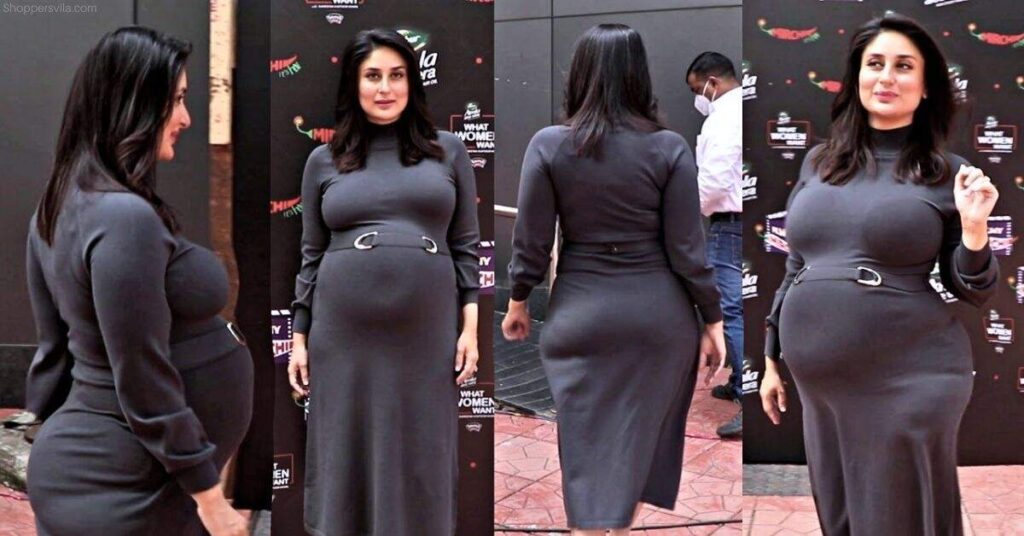 Many point out that she wore baggy, oversized clothing during her last two pregnancies to hide her bump initially. So is she doing the same this time around? Or perhaps waiting for the 12-week "safe zone" before going public?
While possible, there is no concrete evidence to suggest Kareena is being untruthful. Her forthright denial on Instagram and lack of obvious bump in other recent photos point to the rumors being bogus.
What if Kareena did want another baby – would 3rd kids be unusual for her?
If Kareena did want to expand her family, having a third child would not be totally surprising. She has spoken before about wanting to have more kids with Saif down the line.
In 2018, she said in an interview, "I do want to have more babies in the future. I've always been clear about that." However, she also mentioned spacing out her pregnancies and "working in between." Kareena and Saif's second son, Jeh Ali Khan, was born in February 2021. So while she may want another eventually, getting pregnant again so soon seems improbable.
How have Saif and Kareena balanced parenting with busy careers?
For both Saif and Kareena, who work nonstop in Bollywood films, finding time for their kids amidst their packed schedules is a big priority. They have managed to seamlessly blend parenthood with professional demands.
According to Kareena, "Saif is a hands-on dad. He loves every minute of it." He took a break from work after the birth of Jeh to spend time at home. Kareena also made sure to take maternity leave from projects following the arrival of each son.
She has been open about the importance of her children, stating, "My family has always been my top priority.
Will Kareena Kapoor Khan return to films soon amidst the pregnancy whispers?
Yes, Kareena has some major movies in the pipeline, bump or no bump! She was recently seen in the Netflix thriller Jaane Jaan, which released on September 21st.
So Kareena has a jam-packed slate coming up. If she were truly pregnant again, she may have to put some of these commitments on hold temporarily. But for now, it seems she is focused squarely on revving up promotion for Jaane Jaan and her other forthcoming films.
Does Saif want more kids in the future? How many children do they ideally want?
Though Saif has four children – Sara, Ibrahim from his first marriage, and Taimur, Jeh with Kareena – he has not ruled out the possibility of expanding his family even further.
In Kapil Sharma Show last year, when asked whether he's been working tirelessly due to the expansion of his family. Saif said, "No, it's not the pressure of a growing family. My fear is that if I stay home, I might end up having more children,"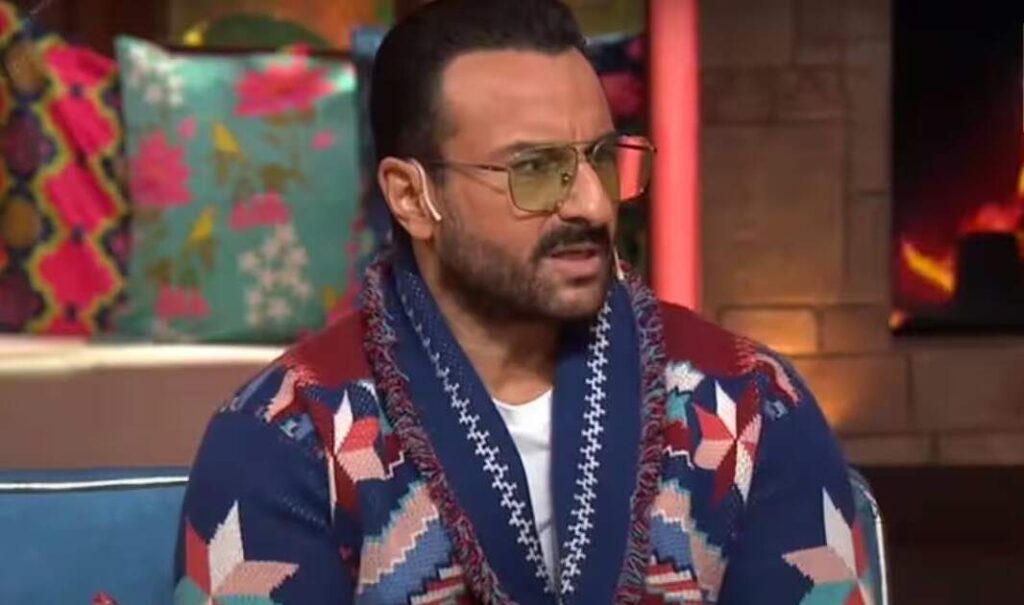 So while Saif may be content for now with his four, he seems open to the idea of welcoming another baby at some point if Kareena wants.
How have fans reacted to rumors of Kareena Kapoor being pregnant again for the third time?
Kareena Kapoor Khan's followers have reacted with a mix of excitement, skepticism and humor to the conjecture that she could be pregnant again.
Many celebrated the prospect of her having a new baby. But others vouched for her "pasta and wine" explanation, arguing she doesn't actually appear pregnant.
Fans also had some lighthearted fun with the viral photo, jokingly asking "Where can I get this amazing pasta and wine?" Many praised Kareena for her witty Instagram response that defused the pregnancy brouhaha with signature panache.
Ultimately, her devoted supporters seem happy whether or not baby #3 is on the way – as long as Bebo herself is happy!
To sum up, recent images of Kareena with a rounded belly sparked speculation that she is pregnant again. But the actress has clearly denied these rumors. She attributed her bigger mid-section to simple weight gain, not another bun in the oven.
While another pregnancy can't be fully ruled out, Kareena's own statements contradict the gossip. She seems focused for now on raising her two toddlers and returning to work on much-awaited films like Jaane Jaan. But if she does want a new sibling for Taimur and Jeh down the line, fans will surely be thrilled. For now, reports of Kareena being pregnant for the third time appear to be just a rumor, according to Bebo herself.
Is Bollywood Actress Kareena Kapoor Pregnant Again for Third Time – FAQs
1. Is Kareena pregnant with baby number 3?
Despite recent speculation and viral photos, Kareena has denied she is currently expecting another child. She clarified that her fuller figure in the images was the result of indulging in "pasta and wine" and was not a baby bump.
2. When did the rumors start that Kareena Kapoor is pregnant again?
The latest pregnancy whispers gained steam after some photos surfaced of Kareena on vacation with her husband Saif Ali Khan. In the pics, Kareena's stomach appeared slightly rounded, sparking speculation she was concealing a bump.
3. How many kids do Kareena and Saif have right now?
Kareena and Saif are currently parents to two sons – Taimur, aged 5, and Jeh, aged 1. Saif also has two older children, Sara and Ibrahim, from his first marriage to Amrita Singh.
4. When did Kareena have her last child?
Kareena gave birth to her and Saif's second son, Jehangir (Jeh), on February, 2021. He was born just a little over 4 years after their firstborn, Taimur, who was born in 2016.