The internet is buzzing after American YouTuber IShowSpeed left a comment on Pakistani cricket star Babar Azam's Instagram post declaring Indian batsman Virat Kohli as the 'GOAT' (Greatest of All Time). This bold statement has sparked a heated debate amongst cricket fans online.
What is IShowSpeed's comment in Pakistan Captain Babar Azam's Instagram post?
On September 23, Azam posted a photo with the caption 'Suit Up' receiving over 733,776 likes. Controversially, 18-year-old YouTuber IShowSpeed commented "Virat obolo tos the GOAT" on Babar Azam's post.
What is the Meaning of 'Virat obolo tos the GOAT'?
By commenting "Virat obolo tos the GOAT", IShowSpeed was calling Indian cricketer Virat Kohli the GOAT (Greatest of All Time). Also Read: Will Virat Kohli Retire from ODIs After World Cup 2023? AB De Villiers Point of View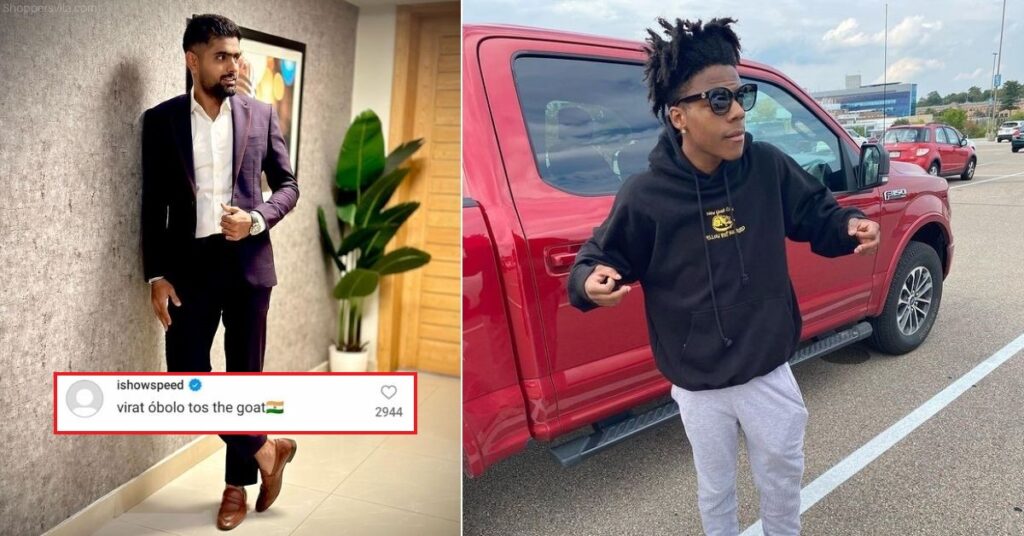 Read Now: Why Virat Kohli Wears Jersey Number 18? Mystery of Virat's No #18 Jersey
By calling Kohli the "GOAT" or Greatest of All Time, IShowSpeed made his preference for the Indian batsman clear over Pakistani favorite Babar Azam.
This is not the first time IShowSpeed has publicly declared his support for Kohli. Earlier this year, he sent an voice message to Virat on stream stating "Virat Kohli, the emerging legend all the way from India. My friend, you're an iconic figure in the world of cricket. I love the way throw the ball from out of boundary. You're the cricket legend, the greatest of all time. I hope to hear from you soon, as I am a big fan. You're truly exceptional!." He has also been filmed proclaiming Kohli as the GOAT to fans.
As an American with no direct connection to the India-Pakistan cricket rivalry, IShowSpeed has made his affinity for Virat Kohli known despite any backlash. His vocal support has predictably stirred debate among fans online.
Know More: Why Siraj is Called Miya Magic? Siraj Miyan Revealed the Story
By boldly declaring Kohli the greatest ever on rival player Babar Azam's Instagram post, IShowSpeed has again demonstrated his devotion for the Indian cricketer. The YouTuber has made Kohli's superiority over Babar a recurring theme in his provocative comments even as an cricket outsider.
Whether as clickbait or sincere admiration, IShowSpeed's latest Kohli-praising remarks have unsurprisingly sparked reactions from cricket fans invested in the India-Pakistan sporting divide.
How Have Indian and Pakistani Fans Reacted to IShowSpeed's Troll to Babar Azam?
Expectedly, Indian cricket fans on social media have largely embraced IShowSpeed's endorsement of Kohli as the GOAT. They are celebrating the statement as an unbiased assessment from a neutral third-party.
Read More: ICC Cricket World Cup 2023 Prize Money of the Tournament
Pakistani cricket lovers, on the other hand, have quickly pointed out IShowSpeed's lack of credibility on the matter. Many argue that while Kohli is undoubtedly an all-time great, Babar deserves respect as the current top-ranked ODI batsman in the world.