The International Cricket Council (ICC) has announced record-breaking prize money for the upcoming ICC Cricket World Cup 2023 to be held in India. With a total prize pool of $10 million, it will be the most lucrative World Cup ever, designed to incentivize teams to give their all in pursuit of the prestigious trophy. Let's take a closer look at the prize money breakdown and what it means for the teams.
Why is the ICC Offering Such Lucrative Prize Money?
In the past decade, cricket has grown exponentially as a global sport, with revenue from broadcast rights and sponsorship deals touching new highs. The ICC earns most of its revenue from the men's Cricket World Cup, which takes place every four years. With the prestige and viewership attached to World Cups, the ICC aims to compensate teams handsomely for their efforts.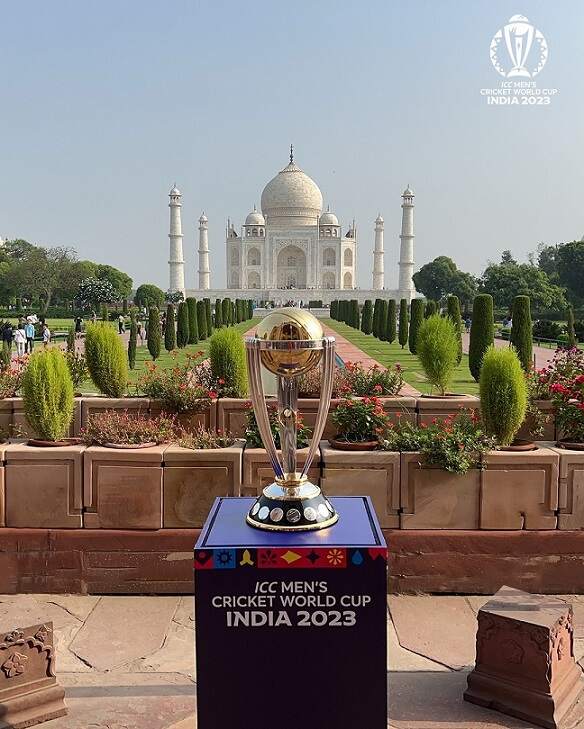 The $10 million prize money for 2023 World Cup winners is double the amount awarded in 2011. This shows ICC's strategy to make World Cups more competitive and attractive to fans by motivating teams to give their best shot at the title. For lower-ranked teams, the sizable payouts are a big incentive to qualify for the World Cup through better performances in the World Cricket League.
ICC Cricket World Cup 2023 (CWC23) Prize Money for Each Stage of the Tournament
Let's look at how the total $10 million prize pool will be distributed among teams, depending on their performance and stage of exit from the tournament:
Winner – $4 million: The team that emerges victorious after the final on November 19, 2023 will take home a whopping $4 million, which equates to ₹331.4 million in Indian rupees. As hosts, India will be eager to grab this top prize in front of home crowds.
Runner-up – $2 million: The losing finalist will get $2 million as second prize, which is ₹165.8 million in INR. Though not the winner's amount, it rewards the effort to make the final.
Losing semi-finalists – $800,000 each: The two teams that lose in the semifinals will get $800,000 each, which is ₹66.4 million in Indian currency. Not bad for a top four finish!
League Stage Teams – $100,000 each: The six teams that fail to qualify from the 10-team round robin group stage will get $100,000 each just for participating, which equals ₹10 million in INR.
Winners of Each League Stage Match – $40,000: For each of the 45 group stage matches, the winning team will take home $40,000 which amounts to ₹3.3 million in Indian rupees. This encourages competition right from the first match.
Has Ben Stokes Retired from ODI Cricket? The Curious Case of England's Star All-Rounder
In total, the 10 participating teams are guaranteed payouts of at least $100,000 each, with the potential to earn as high as $4 million if they win the whole tournament.
How Does 2023 World Cup Prize Money Compare to Previous Tournaments?
To understand the growth in Cricket World Cup prize money over the years, let's compare the 2023 payouts with previous tournaments:
In 2011, the winning team (India) got $3 million while the losing finalist (Sri Lanka) earned $1.5 million.
The prize money doubled in 2015 when Australia won $4 million and New Zealand got $2 million as runners-up.
However, for the 2019 World Cup, won by England, the prize money remained unchanged at 2014 levels.
Now for 2023, the inflation-adjusted prize money effectively remains similar to 2015. But the absolute dollar figures are designed to be eye-catching.
So while the prize money has stagnated in real terms, the ICC has kept the upward trend intact in absolute numbers. The consistency also shows financial stability in the cricket ecosystem.
Why Siraj is Called Miya Magic? Siraj Miyan Revealed the Story
How Will the Lucrative Prize Money Impact Team Strategies?
The hefty prize money per match and stage will definitely influence how teams approach the tournament. Here are some likely outcomes:
Teams will fight hard to qualify from the group stage and reach at least the semifinals to gain a share of the prize pool. This will raise competitiveness.
Playing more aggressively and taking risks to win matches will be rewarded well. So we may see bolder strategies.
Fielding full-strength squads will be a priority, since losing league stage matches means losing out on $40,000 payouts.
There will be immense scoreboard pressure in close matches, as each result carries a high monetary value.
Tournament favorites like India, England and Australia have more incentive to live up to top billing and maximize their prize money.
Why Virat Kohli Wears Jersey Number 18? Mystery of Virat's No #18 Jersey
So in summary, the record prize purse adds financial stakes to on-field performances. This will up the excitement quotient for fans!
How Much are Other Cricket World Cup Tournaments Paying Out?
The ICC Men's ODI World Cup is the pinnacle when it comes to prize money in global cricket tournaments. But how do other marquee events like the T20 World Cup and Champions Trophy compare?
The 2021 T20 World Cup, won by Australia, had total prize money of $5.6 million with $1.6 million for the winners and $800,000 for the runners-up.
At the 2017 Champions Trophy taken by Pakistan, the winning prize was $2.2 million and the runner-up earned $1.1 million.
The Women's Cricket World Cup in 2022 offered total prize money of $3.5 million, with $1 million for the champions.
So it is clear the Men's ODI World Cup far outweighs other tournaments, highlighting its significance as the pinnacle event in cricket worldwide. The significant difference also shows the revenue generation gap between men's and women's cricket currently.
ICC Men's 2023 Cricket World Cup (CWC23) Tournaments Prize Charts
Here is a table summarizing the key prize money details for the ICC Cricket World Cup 2023:
| Stage | Number of Teams | Prize Money Per Team | Total Prize Money |
| --- | --- | --- | --- |
| Winner | 1 | $4 million | $4 million |
| Runner-up | 1 | $2 million | $2 million |
| Losing Semi-Finalists | 2 | $800,000 | $1.6 million |
| Losing League Stage Teams | 6 | $100,000 | $600,000 |
| Winners of Each League Stage Match | 45 matches | $40,000 per match | $1.8 million |
| Total | 10 teams | | $10 million |
What Happened To Legendary Player Heath Streak? Is He Alive?
Summery:
ICC has announced record $10 million prize money for 2023 Cricket World Cup.
Winning team will get $4 million, runner-up gets $2 million.
Losing semi-finalists get $800,000 each, league stage teams get $100,000 each.
Prize money has increased in absolute terms but stagnated in real terms compared to previous World Cups.
Lucrative payouts will raise competitiveness, drive aggressive strategies, and increase scoreboard pressure in close games.
Men's ODI World Cup offers vastly higher prize money than Women's World Cup or other ICC events like T20 World Cup.
Final Verdict
The ICC Cricket World Cup 2023 in India will be the biggest prize money bonanza ever seen in ODI cricket, with $4 million awaiting the worthy champions. This will drive up competitiveness and showcase high stakes cricket to fans globally. While the prize purse has stagnated in real terms, the nominal dollar increase creates news hype. For lower ranked teams, the payouts provide great incentive to qualify and perform. The tournament shaping up to be a thrilling spectacle!
Frequently Asked Questions (FAQs)
1. How much total prize money is being offered at the 2023 Cricket World Cup?
The total prize money pool for the 2023 ICC Cricket World Cup is $10 million.
2. How much prize money does the winning team get?
The winner of the 2023 Cricket World Cup will receive prize money of $4 million.
3. How much will the losing finalist (runner-up) earn in Cricket World Cup 2023?
The losing finalist or runner-up will receive prize money of $2 million in ICC Cricket World Cup 2023.
4. What prize money is awarded to losing semi-finalists of CWC23?
The two losing semi-finalists will each get prize money of $800,000.