Rohit Sharma has emerged as one of the premier batsmen and captains in Indian cricket over the last decade. However, much mystery and debate still surrounds his ethnic origins and background. Is the Hitman actually Marathi, Punjabi or Telugu? This in-depth exploration aims to settle the debate once and for all. With insights into Sharma's family history, upbringing, interviews and more, read on to uncover the definitive truth about his roots.
Rohit Sharma's meteoric rise in cricket is nothing short of inspirational. From humble beginnings in Nagpur to leading Mumbai Indians to multiple IPL titles and India to Asia Cup triumph, few could have predicted his phenomenal success story. While his batting exploits are renowned globally, intrigue still prevails regarding his family background.
Sharma was born in Nagpur but raised in Mumbai, leading to assumptions that he hails from a Marathi family. His surname 'Sharma' meanwhile points to possible Punjabi heritage. However, based on accounts of his childhood and statements made by Sharma himself, neither conjecture is accurate. He in fact belongs to a Telugu family, which we will explore in detail ahead.
Early Life Offers Vital Clues to Hitman's Roots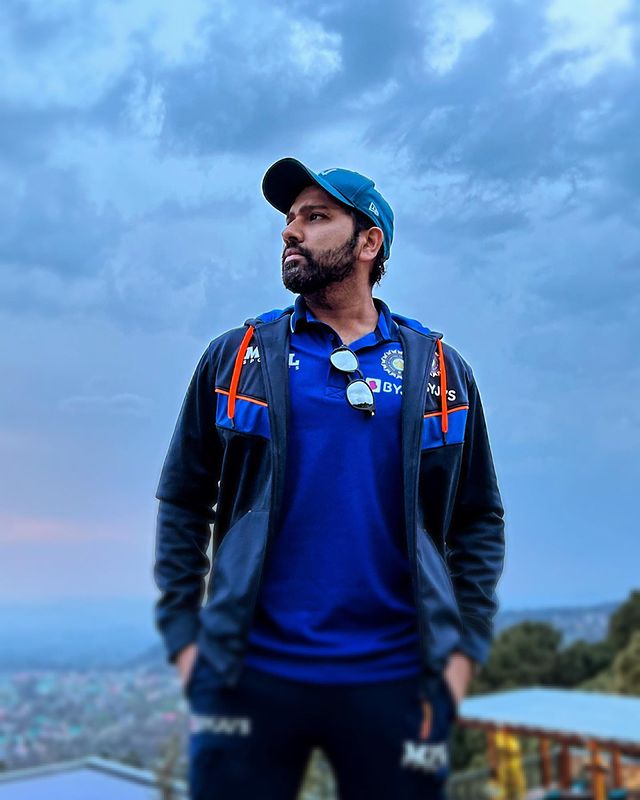 Delving into Rohit Sharma's early life provides vital glimpses into his family history and ethnic origins. He was born on April 30, 1987 to Gurunath and Purnima Sharma in Nagpur, Maharashtra. While his birthplace was Nagpur, further inspection reveals his parents actually hailed from Andhra Pradesh.
Specifically, accounts state his mother Purnima Sharma came from the city of Visakhapatnam in Andhra Pradesh. With Telugu being the predominant language of Andhra Pradesh, this suggests Telugu lineage rather than Marathi.
Moreover, Sharma spent his formative years not in Nagpur but in Mumbai under the care of uncles and grandparents. He would only visit parents on weekends as they lived in a single rented room in Dombivli. This paints a picture of financial hardship as his father worked as storehouse caretaker, preventing them from raising Rohit themselves.
Rohit Sharma's Own Confirmation Settles Debate over Mother Tongue
While theories abound over his roots, Rohit Sharma himself has clarified the matter directly through multiple statements. When asked about his mother tongue, Sharma clearly stated "Yes, my mother tongue is Telugu". He further added his mom hails from Vizag, shorthand for Visakhapatnam.
yes my mother tongue is telugu..my mom is frm vizag !!

— Rohit Sharma (@ImRo45) July 14, 2010
This tweet from 2010 puts the debate firmly to rest – Telugu is his native language passed down by his Andhra Pradesh-based mother. During interviews too, Sharma has emphasized his comfort with Telugu due to his mother's origins.
In April 2022, a video of Sharma speaking Telugu to invite fans to an IPL match in Hyderabad went viral. His message "Memu vachchesnamu" (We have arrived) in Telugu won many local hearts and reiterated his linkage to the language. Regardless of growing up outside Andhra Pradesh, Telugu remains his mother tongue.
Captain Ro Hyderabad వచ్చెసాడు! 💙#OneFamily #MumbaiMeriJaan #MumbaiIndians #IPL2023 #TATAIPL @ImRo45 pic.twitter.com/LbDgfbrV19

— Mumbai Indians (@mipaltan) April 17, 2023
Rohit's Upbringing in Maharashtra Led to Marathi Misconceptions
In light of confirmation that his family heritage is Telugu, how did assumptions of Marathi background arise? Sharma's birth in Nagpur followed by upbringing in Mumbai provides the answer.
With his father occupied in low-paying work, Rohit and brother Vishal were raised in Borivali, Mumbai by their uncles and grandparents. Mumbai falls in the state of Maharashtra, where Marathi is the most widely spoken language.
As a consequence, Sharma gained fluency in Marathi during his schooling and domestic cricket in Mumbai. However, his family lacking Marathi roots meant his mother tongue continued to be Telugu inherited from parents. Poor comprehension of this difference led many to incorrectly presume Sharma was Marathi.
'Sharma' Surname Not Indicative of Punjabi Descent
In addition to the misconception of Marathi heritage, some conjectured Sharma may have Punjabi ancestry due to his surname. Sharma is in fact a common surname across North India including among Punjabi communities.
However, his surname by itself does not imply Punjabi family origins. 'Sharma' is prevalent as a Brahmin surname across multiple geographies. For Rohit, evidence clearly establishes his being part of a Telugu Brahmin family specifically.
Surname-based extrapolation alone can be erroneous in determining language/ethnic identity in India. Rohit using the Sharma surname has more to do with pan-India Brahmin naming conventions rather than any Punjabi descent. With no accounts of his family having ties to Punjab, the Punjabi angle can be safely refuted.
Hitman Embraces Both Telugu and Marathi Cultural Identities
Rather than being restricted to a single cultural identity, Rohit Sharma comfortably embraces both his Telugu heritage and local Mumbai upbringing.
He retains Telugu as his mother tongue and connections to Andhra Pradesh through parents and relatives. At the same time, having spent formative cricket years in Mumbai, he is also fluent in Marathi and part of the fabric of Maharashtra's sporting culture.
Sharma represents an expansive modern Indian identity – one can have deep roots in a certain native culture while also assimilating other influences. He serves as a role model for embracing diversity and not being constrained by narrow ethnic affiliations.
Both Andhra Pradesh and Maharashtra rightfully take pride in Rohit's accomplishments as he belongs to both in his unique way.
Decisive Evidence Affirms Rohit Sharma's Telugu Lineage
In conclusion, exhaustive research and Rohit Sharma's own statements substantiate his Telugu ethnicity beyond doubt. His mother hailing from Vizag, Andhra Pradesh makes Telugu his mother tongue.
False imputations of Marathi or Punjabi background stem from his Maharashtra upbringing and 'Sharma' surname respectively. But neither indicates his family origins. Having a Telugu mother clinches his ancestral roots being Telugu rather than Marathi or Punjabi.
Sharma embodies a progressive Indian identity comfortably marrying his Telugu heritage with local Maharashtra culture. Rightfully recognized as a national icon, his story also holds lessons on embracing the multiplicity within Indian society.
Frequently Asked Questions (FAQ)
1. Is Rohit Sharma belongs to Marathi family?
No, Rohit Sharma does not belong to a Marathi family background, even though he was born in Nagpur and raised in Mumbai, Maharashtra. His ancestry can be traced back to Andhra Pradesh.
2. What is Rohit Sharma's caste?
Rohit Sharma belongs to a Telugu Brahmin family. His parents were Telugu Brahmins who had migrated to Maharashtra from Andhra Pradesh.
3. What is Rohit Sharma's mother tongue?
Telugu is Rohit Sharma's native language and mother tongue, which he inherited from his mother's side. His mother Purnima Sharma was from Visakhapatnam in Andhra Pradesh.
4. Why did people think Rohit Sharma was Marathi?
Since Rohit Sharma was born in Nagpur, Maharashtra and spent his childhood in Mumbai, many assumed he was Marathi. But his family roots and mother tongue clearly establish his Telugu ethnicity.
5. Does 'Sharma' surname mean Rohit is Punjabi?
No, his surname alone does not imply Punjabi roots. 'Sharma' is a common Brahmin surname across India adopted by various communities.
6. Which languages can Rohit Sharma speak?
Rohit Sharma can speak Telugu, Hindi, English and Marathi fluently. He is most comfortable speaking in Telugu, his mother tongue.