Skokka, an adult classifieds website, has become a target for extortion schemes where criminals obtain users' contact information and send violent threats demanding money.
Victims Receive Disturbing Threats and Images
Numerous Skokka users across South America and beyond have reported receiving chilling messages threatening harm or death to themselves and their families if unspecified sums of money are not paid. These threats often include disturbing images of severely injured or dead people as a grim warning of what could happen.
In many cases, the criminals pose as managers of hitmen or claim to run massage parlors or escort services. After getting users' phone numbers or other personal details from their Skokka ads, the scammers send messages through disposable virtual phone numbers that are difficult to trace.
A common tactic is to accuse the victim of wasting the time of supposed sex workers or causing financial loss to the criminal's fictional business. Demands range from 2,000 to 5,000 Bolivianos, equivalent to hundreds of US dollars.
Police Receive Multiple Complaints But No Evidence of Real Attacks
According to police cybercrime units in Bolivia, at least seven formal complaints were filed in La Paz during the first half of 2022 related to these Skokka extortion schemes. Similar reports have emerged from other Latin American countries like Argentina, Ecuador, and Costa Rica.
So far, authorities have not found evidence that any of the threats were actually carried out. The disturbing photos appear to be random images taken from the internet, rather than proof of real violence against victims. However, the threats themselves cause fear and harm even without physical attacks.
Skokka Denies Involvement, Warns Users About Scams
While Skokka provides the platform that criminals leverage to initiate contact, the company has denied any direct involvement with the threats. Skokka has issued statements across its social media channels cautioning users about the scams and advising them not to provide personal details to suspicious contacts claiming to represent Skokka.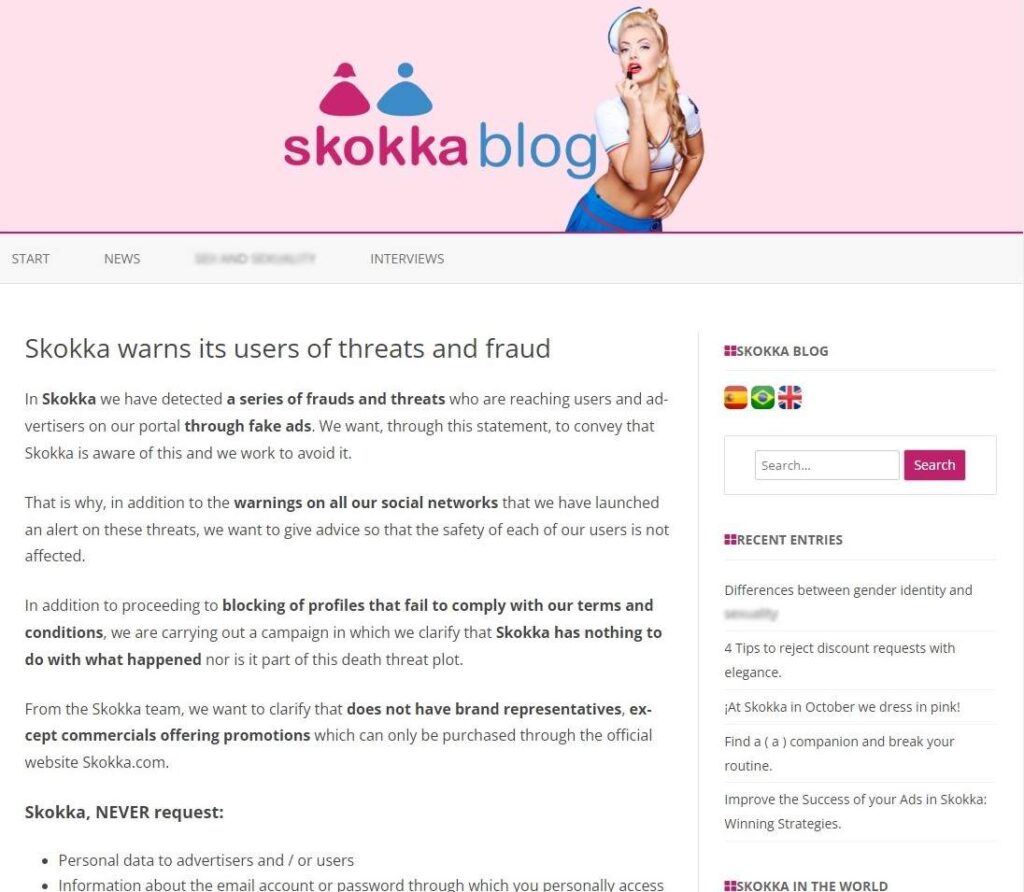 The website has said it tries to quickly block profiles that violate its terms of service. It also encourages users to immediately report any concerning messages to Skokka so the security team can investigate.
Police Offer Recommendations to Avoid Falling Victim
Law enforcement experts remind internet users to only visit reputable, secure websites and be cautious sharing personal information online. Users should avoid unkown links and watch for spelling errors or other signs of fraud.
Authorities also advise blocking any numbers sending threats, installing antivirus software, and immediately reporting concerning activity to cybercrime investigators. Collecting evidence like screenshots can help police track down scammers and prevent further harm.
Fear Spreads Across Skokka's International User Base
While based in Australia, Skokka hosts localized sites across Latin America, North America, Europe and Asia. This global reach allows criminals to target victims across multiple countries.
Men who received threats after using Skokka have reached out to journalists and police asking if the dangers are real. Most decline to speak in depth due to fear of further retaliation. The distress and fear caused by these schemes impact not just the individual victims but also their worried family members.
Without evidence that actual violence has occurred, the threats remain psychological warfare. But the disturbing messages and images still inflict serious emotional damage. Users describe constant fear that hitmen could attack at any moment or loved ones could get caught in the crossfire.
Skokka Acknowledges Damage to Reputation and Users
Skokka has acknowledged the threats circulating on its platform seriously harm its brand reputation and trustworthiness among users. Even if the company itself does not participate directly, its name becomes associated with the threats.
In statements warning about the issue, Skokka admitted the scams call into question the safety and security of the site. As an international platform depended on users, loss of consumer trust could damage Skokka's business.
The company says it is working urgently to improve safety features and prevent criminal activities on its platform. However, with much of the activity occurring outside Skokka's view through private communications, the website's ability to protect users remains limited.
Tips to Avoid Falling Victim to Cyber Extortion Schemes
While the Skokka threats showcase one specific scam, authorities say similar cyber extortion tactics are on the rise globally. Here are tips to recognize and avoid becoming a victim:
Be skeptical of any unusual or threatening contacts related to online accounts. Do not provide additional personal info.
Look for signs of fraud such as strange numbers, poor grammar/spelling, or urgent demands for payment.
Never send money in response to threats or click unknown links which could download malware.
Take screenshots of concerning messages and report the incident to website operators and law enforcement.
Block threatening numbers and accounts when possible and change passwords as a precaution.
Keep software, operating systems, and security programs up to date across all devices. Enable two-factor authentication.
Staying vigilant online and choosing legitimate, trustworthy websites can reduce exposure to cyber extortion scams and threats. But no one is immune from potential contact by sophisticated criminal networks. Acting quickly when targeted and alerting authorities is key to stopping these schemes.