For years, rumors have swirled about a supposed secret romance between politician Aditya Thackeray and actress Disha Patani. However, a closer examination of their interactions indicates their relationship is completely platonic. While the gossip is certainly tantalizing, there is little evidence to substantiate the claims that Patani and Thackeray are anything more than good friends.
Friendly Birthday Exchanges Hardly Prove Romance
Much of the relationship speculation stems from Patani and Thackeray exchanging warm birthday greetings on social media. Given their shared June 13th birthday, they often publicly wish each other well on the special day. Back in 2020, Patani tweeted birthday wishes to Thackeray, telling him to "keep shining."
Happiest b'day @AUThackeray stay the amazing you and keep shining 🤗❤️

— Disha Patani (@DishPatani) June 13, 2020
Thackeray replied graciously, saying Patani was "one of the few" he could say "happy birthday" to on his birthday.
Thank you so much Disha! One of those few people who I can say "same to you" on 13th of June for a birthday wish! Keep shining and rising!

— Aaditya Thackeray (@AUThackeray) June 13, 2020
While some observers read romantic undertones into this exchange, it can just as easily be seen as two friends sharing a birthday being friendly. After all, Patani was in a serious relationship with actor Tiger Shroff at the time, making it doubtful she was secretly involved with Thackeray. The pleasant birthday messages alone are hardly definitive evidence of a love affair.
Casual Public Outings Don't Mean Dates
Patani and Thackeray have also been photographed together during casual meetups over the years, which gossip hounds portray as secret dates. For instance, they were snapped having dinner together in Mumbai in 2019. However, two friends sharing a meal does not automatically equal romance.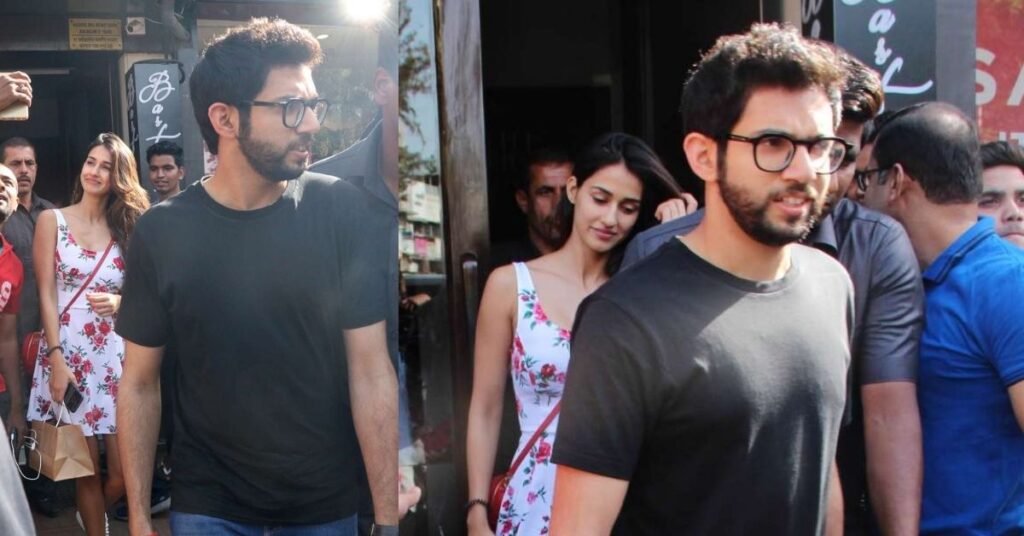 Likewise, the two attending the same birthday party and being spotted leaving together lacks romantic context. Patani even directly stated around that time that she regularly spends platonic time with male friends. Overall, the outings captured on film are fully consistent with normal friendship behavior.
Disha Patani and Aditya Thackeray's Reply
While Patani has directly denied dating rumors, neither she nor Thackeray have definitively shut down speculation about their bond.
In a 2019 press conference, when asked if he received a special birthday gift from Patani, Aditya simply smiled and folded his hands in a namaste gesture rather than answering. Later, when asked about birthday dinner plans, he stated vaguely that he would be dining at home with family in Matoshree.
While Disha's stance tried to paint her friendship with Aditya as purely friendly, she noticeably stopped short of issuing an outright denial about dating rumors. Similarly, Aditya's vague answers refused to provide a definitive clarification on the nature of his bond with Disha. Their mutual reluctance to be fully transparent on the subject continues to fuel speculation from the media and public about whether their relationship is strictly friendly. Neither Disha nor Aditya has been willing to conclusively put the rumors to rest.
Timeline Tracks an Evolving Friendship
Looking at the timeline of Patani and Thackeray's interactions, their association appears to gradually grow from professional friendliness to a legitimate friendship:
June 2019: Patani and Thackeray are spotted dining together on his birthday.
June 2020: Their social media birthday exchanges become warmer and more familiar.
June 2021: Patani visits the Thackeray home for a birthday dinner.
June 2022: Patani and Thackeray wish each other happy birthday again on social media.
Rather than a secret love story, this timeline tracks two acquaintances nurturing a friendship over several years. They ultimately seem to develop a strong platonic bond.
Media Frenzy Lacks Substance
Much of the relationship speculation stems from sensationalist gossip reporting rather than substantive evidence. The Indian press loves to link any attractive, high-profile man and woman who associate. However, just being friends with the opposite gender does not automatically equal romance.
Until Patani or Thackeray definitively indicate they are more than friends, the breathless media narratives of a secret affair appear predominantly driven by a desire for attention-grabbing headlines.
Friendship Is the Occam's Razor Answer
Ultimately, the simplest explanation is likely the truth – that Patani and Thackeray are close friends who prefer keeping their relationship private. Their exchanges are better explained by an evolving friendship between two people with shared interests than any unproven romantic connection.
While gossip is fun, the most logical conclusion based on their observed interactions is that Aditya Thackeray and Disha Patani have a completely platonic relationship. Unless substantiated evidence emerges, assuming their bond is romantic seems to be an unfounded leap. In all likelihood, the two are simply good friends who enjoy each other's company occasionally.
To summarize, Aditya Thackeray and Disha Patani appear to have a warm but strictly platonic friendship. The speculative rumors far outweigh any tangible proof they are secretly dating. Their exchanges on social media and during friendly outings are consistent with typical friend behavior rather than lovers. Barring concrete evidence to the contrary, assuming their relationship is romantic appears unrealistic. The simplest explanation is usually the right one – and in this case, it points to just a close friendship between the actress and the politician.
Frequently Asked Questions (FAQs)
1. Are Aditya Thackeray and Disha Patani dating?
No, they are not dating each other.
2. Why do people think there is something going on between Aditya and Disha?
Rumors started based on their social media chemistry and being spotted together. Some believe they protest too much about just being friends.
3. When did rumors about Aditya Thackeray and Disha Patani's relationship first start?
Rumors began swirling in 2019 when they were photographed on outings together and exchanged birthday wishes online.
4. Have Aditya or Disha ever publicly confirmed they are in a relationship?
No, neither of them has ever publicly stated or confirmed that they are in a romantic relationship.