Pakistani sweetheart Mahira Khan has married once again, this time to businessman Salim Karim in an intimate wedding ceremony. Videos and photos from their nuptials have circulated online, much to the delight of the actress' many fans. But who exactly is Mahira Khan's new husband?
Is Actress Mahira Khan Married Again?
The Humsafar star wed Salim Karim on October 1st in a small, outdoor affair in Murree, Pakistan. Mahira looked resplendent in a pastel lehenga with an embroidered veil, while Salim complemented her in a black sherwani and blue turban. Their ceremony appeared filled with love and emotion, as evidenced by several viral clips.
One video in particular shows Salim overcome with sentiment as Mahira makes her way down the flower-strewn aisle. When she reaches him, he gently lifts her veil and the two share a sweet embrace. For Mahira's millions of followers, it was a magical moment.
While Mahira has kept details of her romantic relationships largely private, she did indicate in a 2020 interview that she was in a committed partnership with someone outside of the entertainment industry. It is presumed this statement referred to Salim Karim, meaning the two have likely been an item for several years.
Mahira was previously married to Ali Askari, with whom she shares a son, Azlan. The couple divorced in 2015 after nine years of marriage. Her wedding to Salim therefore marks Mahira's second marriage.
The actress' manager, Anushay Talha, shared videos of Mahira and Salim's wedding ceremony on social media. Rather than a grand affair, their union was celebrated in an intimate way with close friends and family. Despite its small scale, their wedding appeared joyous and steeped in emotion.
Who is Mahira Khan's 2nd Husband?
So who is the mystery man who swept Mahira off her feet? Salim Karim is a Pakistani entrepreneur and businessman who keeps a rather low profile. But here are some key facts about Mahira's new husband:
He is the CEO of Simpaisa, a startup focused on facilitating mobile payments. This innovative company lets users make financial transactions directly through their SIM cards.
In addition to his business pursuits, Salim is a professional DJ.
Mahira and Salim first crossed paths in 2017. They got engaged two years later in 2019 while vacationing in Turkey.
The businessman is not part of the entertainment industry. Mahira has said she appreciates having a relationship outside of the spotlight.
By all accounts, Salim is a private, driven individual who shares Mahira's values of family and philanthropy.
His viral wedding videos reveal a sensitive, emotional side as well. Netizens found his sentimentality towards his bride touching.
Though plenty about Salim is still unknown, he clearly makes Mahira very happy. The way she glowed on their wedding day said it all.
Glimpses Into Their Big Day
Videos shared by Mahira's inner circle provide precious glimpses into her fairytale wedding. In them, Mahira is the epitome of grace, beaming in her embroidered attire. Salim cuts a dashing figure as well in formal Pakistani garb.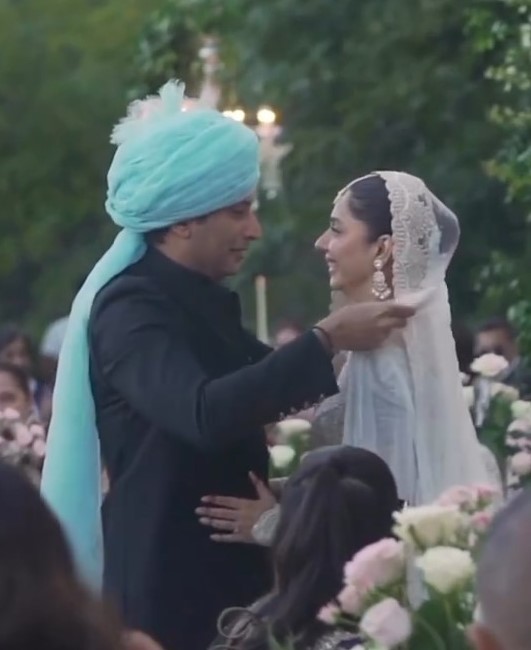 But it is the tender moments between the newlyweds that really stand out. Salim gently but eagerly lifts Mahira's veil to get his first glimpse of his stunning wife, after which they share a lingering hug. In the background, cheers can be heard along with the song "Suno Chanda."
The emotional groom walks hand-in-hand with Mahira down the aisle, standing taller than ever beside his new bride. They pause to look into one another's eyes, appearing blissfully content.
One heartwarming clip shows Salim softly kissing Mahira's forehead as they sit close together on a swing. Mahira has spoken before about longing to find a life partner who brings her peace and stability. These scenes certainly imply she has found exactly that with Salim.
Fan Reactions to Mahira's Wedding
As soon as photos and videos from Mahira and Salim's nuptials emerged online, fans flooded social media with positive sentiments about the wedding. Many posted congratulatory messages for the couple using the trending hashtag #MahiraKhan.
"Mashallah! Mahira looks so beautiful and happy, I'm crying tears of joy," wrote one elated fan on Twitter. Others echoed this sentiment, emphasizing how radiant Mahira looked on her big day.
Many followers commented on the visible depth of emotion between the newlyweds. "The way Salim looks at Mahira says it all. You can feel the love," one netizen remarked. Even viewers who didn't know Salim before felt touched by his vulnerability when seeing his bride.
Overall, responses highlighted admiration and affection for Mahira Khan and excitement for her new chapter. After years in the spotlight, she is beginning married life once more, this time with her soulmate Salim beside her.
Frequently Asked Questions (FAQs)
1. Is Pakistani Actress Mahira Khan Married Again for 2nd Time?
Yes, Mahira Khan recently married businessman Salim Karim in an intimate outdoor ceremony in Pakistan. This marks the acclaimed actress' second marriage after divorcing her first husband, Ali Askari, in 2015.
2. Who is Mahira Khan's 2nd Husband?
Mahira Khan's second husband is Salim Karim, a Pakistani entrepreneur and businessman. He is the CEO of a startup called Simpaisa that facilitates mobile payments.
3. What is the Name of Mahira Khan's 2nd Husband?
The name of Mahira Khan's second husband is Salim Karim. He is a relatively private businessman who is not part of the entertainment industry.
4. When Did Mahira Khan Marry for the Second Time?
Mahira Khan married Salim Karim on October 1st, 2023 in a small outdoor wedding in Murree, Pakistan. The ceremony was attended by close friends and family.
5. How Did Mahira Khan Meet Her New Husband?
Mahira Khan first met Salim Karim in 2017 at the launch of a television application. They later got engaged in 2019 while on vacation in Turkey before tying the knot in 2023.
6. Does Mahira Khan Have Children from Her First Marriage?
Yes, Mahira Khan has a son named Azlan from her first marriage to ex-husband Ali Askari. Azlan was born in 2009.