India has embarked on an ambitious voyage to unravel the mysteries of the Sun by launching Aditya-L1, its first solar mission. The successful lift-off marks a significant milestone for the country as it gears up to join an elite club of nations having research facilities near the Sun. This mission promises to provide unprecedented insights into the workings of our nearest star.
What is the Aditya-L1 mission?
Aditya-L1 is India's first observatory-class space mission dedicated to studying the Sun. Named after the Hindu sun god Aditya, the satellite carries a suite of instruments to image the Sun and measure particles and magnetic fields emanating from it.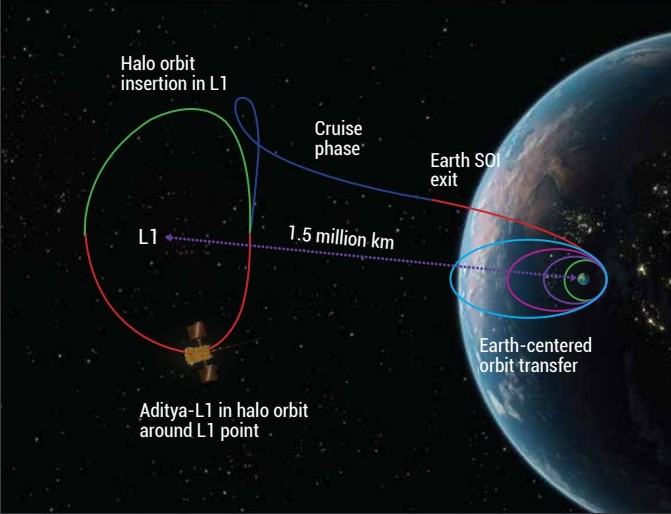 The most remarkable aspect of Aditya-L1 is its location – a point in space about 1.5 million km from the Earth towards the Sun. This special position is called the Lagrangian point L1 of the Sun-Earth system. At L1, the gravitational pull of the Sun and Earth balances the orbital motion, allowing Aditya-L1 to maintain a fixed position with minimal fuel expenditure.
This privileged vantage point will enable continuous monitoring of the Sun without any eclipses or occultation by the Earth blocking the view. The data from Aditya-L1 is thus crucial for improving our understanding of the Sun and its impact on Earth.
Aditya-L1 Solar Rocket Mission Launch Date and Time
The Indian Space Research Organisation (ISRO) launched Aditya-L1 on a Polar Satellite Launch Vehicle (PSLV) rocket from Sriharikota, Andhra Pradesh on September 2, 2023 at 11:50 AM IST.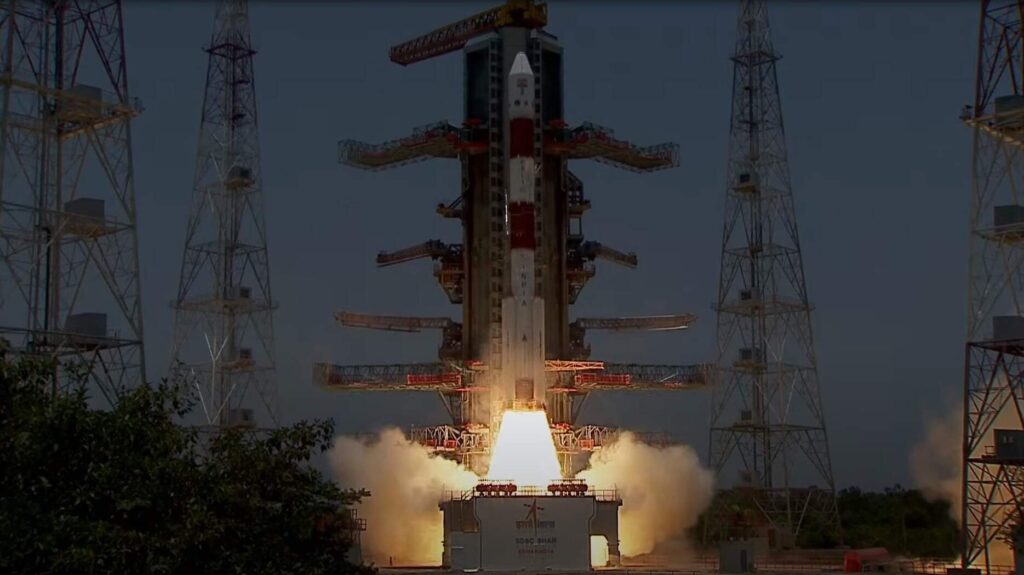 The PSLV precisely injected Aditya-L1 into an initial elliptical orbit around the Earth. This marked the successful completion of the first phase of its long journey to the L1 point.
India's Aditya-L1 Rocket Mission: Reaching Lagrangian Point L1
Over the next 16 days, Aditya-L1 will orbit the Earth and fire its onboard engines multiple times to slowly build up the velocity to break free of Earth's gravitational sphere of influence.
Also Read: What is inside the Chandrayaan 3?
Once on a solar orbit, the 110-day cruise phase to L1 will commence. Complex maneuvers using the satellite's Liquid Apogee Motor (LAM) will finally place it in a halo orbit around L1 by January 2024.
Thus, the total transit time for Aditya-L1 to reach its work-site is approximately 4 months. ISRO has mastered these complex orbital maneuvers required for previous successful missions like Chandrayaan and Mangalyaan.
What will Aditya-L1 study once at L1?
The primary scientific objectives of Aditya-L1 are:
Understand the dynamic physical processes in the Sun's outer layers or corona that heat it to million degree temperatures.
Study how the solar wind originating in the corona gets accelerated to supersonic speeds.
Investigate the generation of solar storms like Coronal Mass Ejections (CME) and solar flares, and their impact on space weather.
Determine how energy flows into the corona from the photosphere and chromosphere below it.
Measure properties like density, temperature and direction of solar wind plasma.
Map the magnetic field lines traversing the corona and the interplanetary space.
Seven highly specialized payloads have been developed by Indian research institutions to fulfill these scientific goals.
What instruments does Aditya-L1 carry?
The seven payloads onboard Aditya-L1 and their objectives are:
Visible Emission Line Coronagraph (VELC) – Images the corona in visible light and measures properties of CMEs.
Solar Ultraviolet Imaging Telescope (SUIT) – Provides images of the photosphere and chromosphere at UV wavelengths.
Aditya Solar Wind Particle Experiment (ASPEX) – Studies properties of low energy solar wind ions.
Plasma Analyser Package for Aditya (PAPA) – Measures composition of solar wind and energetic ions.
Solar Low Energy X-ray Spectrometer (SoLEXS) – Observes low energy X-rays emitted during solar flares.
High Energy L1 Orbiting X-ray Spectrometer (HEL1OS) – Detects high energy X-ray photons from solar flares.
Magnetometer – Measures the interplanetary magnetic field strength and direction.
Positioning these indigenously designed instruments at the L1 vantage point enables a complete 360-degree view of the Sun that is unhindered by the Earth's shadow or magnetic fields.
Benefits of the Pioneering Aditya-L1 Solar Mission for India
This pioneering solar mission will bring immense benefits not just for advancing scientific knowledge, but also practical applications:
Provide accurate space weather forecasts by observing CMEs from the L1 location and forewarning about incoming geomagnetic storms.
Improve prediction models for events affecting satellites, power grids and communication networks on Earth.
Deepen understanding of stars by unraveling mysteries of the Sun which serves as the archetype of all stars.
Inspire young minds by demonstrating India's scientific capabilities through ambitious space science missions.
Strengthen international partnerships and lead to joint studies with findings from Aditya-L1.
Enhance technological capabilities through the development of cutting-edge payloads and their operation for the mission life.
Open up new vistas for space-based solar studies with follow-on future missions.
Thus, Aditya-L1 has both scientific and practical benefits that make this a very worthwhile investment for the country.
International Space Agencies Reactions to the Mission
The Aditya-L1 mission has elicited enthusiastic responses from international space agencies that have similar research facilities studying the Sun:
NASA has lauded India's accomplishment and its importance for humanity. It is looking forward to collaborations enabled by common interests and complementary data between Aditya-L1 and NASA's Parker Solar Probe.
ESA has congratulated India on its solar mission, calling it an important international scientific endeavor that will provide key insights into space weather.
JAXA has appreciated India's contribution towards advancing solar science and applications like space weather prediction using Aditya-L1's measurements.
Roscosmos has praised the successful launch of Aditya-L1 as an impressive showcase of India's technological capabilities. It sees potential for joint studies on the Sun and heliophysics by sharing data.
Clearly, Aditya-L1 signals India's ascendance to the ranks of advanced space-faring nations undertaking cutting-edge scientific missions that further mankind's knowledge base.
How have Indian leaders responded to the successful launch of Aditya L1?
The landmark launch of India's first dedicated solar observatory has elicited proud responses from various leaders:
Prime Minister Narendra Modi congratulated ISRO scientists and termed the mission a shining symbol of India's scientific quest for progress.
Home Minister Amit Shah hailed it as a historic achievement that overcomes technological challenges to unravel mysteries of the Sun.
External Affairs Minister S. Jaishankar called Aditya-L1 another feather in India's cap that raises its global scientific profile.
Minister of State Jitendra Singh described it as a sunshine moment for India that advances solar studies for humanity's welfare.
Opposition leaders also appreciated ISRO's accomplishment as a proud moment for India's space programme.
This shows the widespread support and encouragement for India's bold strides in space exploration across political dispensations.
Experts on the Significance of Aditya-L1
Space scientists and researchers in India have lauded the Aditya-L1 mission for being a gamechanger in solar studies:
Dr. K. Sivan, ISRO Chairman termed it a historic mission that will unravel mysteries surrounding the Sun's corona.
Dr. Somak Raychaudhury highlighted its importance in safeguarding satellites from solar storms by monitoring space weather.
Prof. Dipankar Banerjee called it a milestone for India's space science capabilities enabling cutting-edge Sun-Earth research.
Dr. P. K. Manoj stated it will shed new light on the triggers for CMEs and solar flares that impact space and Earth.
Dr. P. Sreekumar described Aditya-L1 as the holy grail of solar missions that require mastering complex orbital maneuvers.
Clearly, Aditya-L1 signifies the coming of age of India's space programme to take on ambitious scientific challenges like solar studies.
What is the significance of India's solar mission?
The Aditya-L1 mission is a watershed event for Indian science and technology as well as international solar physics research:
It propels India into a select league of countries having space-based solar observatories along with USA, Europe, China, Japan and Russia.
It enables India to exploit the unique advantages of an L1 vantage point for uninterrupted solar observations.
It positions India as a serious contributor with advanced capabilities in cutting-edge scientific space missions.
It provides impetus for developing talent and technology for future sophisticated science missions.
It allows complementing data from other solar probes like NASA's Parker Solar Probe.
It establishes India as a reliable partner for collaborative space science endeavors globally.
Thus, Aditya-L1 has multifaceted benefits that make it a historic milestone for Indian science and technology.
What does the future hold for India's space programme after Aditya L1?
The successful debut of its first solar mission provides momentum for India to envision more ambitious missions:
Follow-on solar studies from the L5 point to improve space weather predictions and coronal imaging.
Landing spacecraft on the lunar poles and establishing a lunar base for experiments.
Sending a deep-space human spaceflight mission beyond the Earth-Moon system.
Launching an advanced astronomical observatory to find exoplanets and understand dark energy.
Undertaking challenging sample return missions from asteroids and comets.
Establishing a permanent space station in low Earth orbit.
Pursuing partnerships with space superpowers on human missions to the Moon and Mars.
Clearly, Aditya-L1 is just the beginning as India aims higher to emerge as a space power that contributes actively to the global advancement of science and exploration.
In Summary
India has successfully launched its first dedicated solar observatory mission Aditya-L1 on September 2, 2023.
It will travel around 1.5 million km over 4 months to reach the L1 point between the Sun and Earth.
At L1, Aditya-L1 will orbit the Sun in sync with Earth to enable continuous solar observations.
Its suite of payloads will study the corona, photosphere, solar storms, wind, and flares providing insight into the Sun's workings.
Aditya-L1 has elicited enthusiastic response from Indian leaders and international space agencies alike.
Its successful launch highlights India's growing capabilities in undertaking complex space science missions.
Aditya-L1 heralds an exciting future as India aims higher in advancing the frontiers of human knowledge.
Frequently Asked Questions (FAQs)
1. Is India's Aditya-l1 Rocket Launched?
Yes, the Aditya-L1 spacecraft was successfully launched by ISRO on September 2, 2023 at 11:50 AM IST on a PSLV rocket from Sriharikota, Andhra Pradesh.
2. When did India launch the Aditya-L1 mission?
The Aditya-L1 solar mission was launched on September 2, 2023 at 11:50 AM Indian Standard Time (IST) by ISRO.
3. What is the purpose of the Aditya-L1 mission?
Aditya-L1 is India's first dedicated solar observatory in space to study the Sun and its atmosphere. Its science goals are to understand solar storms, corona, winds, flares and their impact on space weather.
4. How will Aditya-L1 reach Lagrangian point L1?
After launch into initial Earth orbit, Aditya-L1 will undertake a complex 4-month journey involving orbit raises and cruise phase to reach the L1 point 1.5 million km from Earth.
5. How long will the Aditya-L1 mission last?
The planned mission life of Aditya-L1 is 5 years. The satellite has sufficient fuel for maintaining its halo orbit around L1 point during this period.
6. Which countries have solar observatories like Aditya-L1?
USA, Europe, China, Japan and Russia are the other countries that have placed solar study satellites located at vantage points like L1.