In the world of cinema, gossip and rumors often surround the lives of celebrities, and Keerthy Suresh has recently found herself at the center of attention. Various speculations about Keerthy's love life and marriage have been making headlines. The actress recently addressed one such news.
After Keerthy shared a picture with her friend, Farhan Bin Liaquat, rumors started circulating that she had introduced her boyfriend to the world. Keerthy swiftly responded, clarifying that he is just a friend. She emphasized that there is no need to involve her friend in unnecessary speculations, and the mystery man will be revealed when the time is right.
However, another photo of Keerthy has now caught the attention of fans. The image shows Keerthy Suresh getting cozy with an unidentified person, sparking curiosity. Is this the mystery man Keerthy previously mentioned? Fans are pointing out their undeniable closeness in the pictures, which have quickly gone viral among Telugu fans. Everyone is eager to discover the identity of this companion.
Meanwhile, reports suggest that the person in question is a technician and a friend of Keerthy's. The photos were taken during the shooting of her latest Malayalam film, Vashi. Keerthy had shared behind-the-scenes moments from the film, including pictures with Tovino Thomas. Fans are expressing their disappointment with the circulation of these photos, mistaking the friend for Keerthy's romantic partner.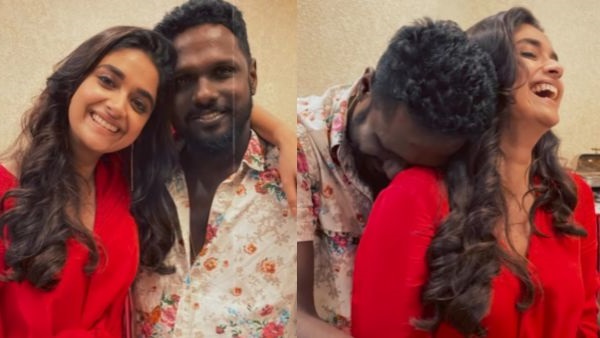 Previously, there were rumors about Keerthy planning to marry her classmate, but her mother, Menaka Suresh, dismissed those claims as baseless stories. Menaka clarified that Keerthy is currently not married and not in a romantic relationship with anyone. She assured that if there were any significant developments in Keerthy's personal life, the actress herself would share the news.
Keerthy Suresh, who started her journey in the film industry as a child artist, has now become one of the most sought-after actresses in South India. With her remarkable performances, she has garnered accolades, including the National Award for Best Actress for her role in the film Mahanati. Keerthy is actively involved in Tamil and Telugu cinema.
Keerthy's upcoming projects include the film "Mamannan," directed by Mari Selvaraj, where she shares the screen with Vadivelu, Fahadh Faasil, and Udayanidhi Stalin. Currently, she is also working on the Chiranjeevi-starrer "Bhola Shankar."