Free Stuff is always highly demanded products and if you get that from amazon then it is time to whistle. However, If you are a book lover then this deal is only for you. Here You'll get Best Selling Kindle Books For Free On Amazon Kindle.
Amazon Kindle has both free and paid versions where the author occasionally giveaway their ebook free for readers which valid for a limited time.
How To Get Free Kindle eBooks On Amazon?
Click on the Get this Deal Now button (Valid For Indian Users) and you'll be landed on the deal page. Therefore, choose your best selling book and click on the buy now button and that's it. Before clicking on buy now please check twice the price is shown Rs.0 or not. Then Buy the Amazon Kindle ebook For Free. The deal would be looks like the below screenshot.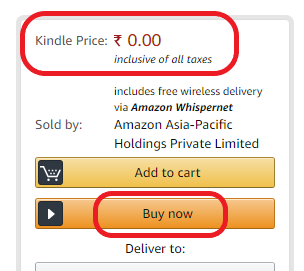 How Can I Get Best Selling Ebooks For Free (Non-Indian Users)?
Hey, don't worry if you are from the USA or anywhere else, you'll still get this deal. Just Click Here (For Non-Indian Users) and you'll be redirected to amazon kindle free book deal page now follow the previous step and read without any hassle.
Is There Any Promo Code Required For Getting This Free Stuff From Amazon?
No dear, you don't require any promo code to get this deal.
Are All Best Selling Kindle eBooks For Free On Amazon?
No buddy, you'll get all those ebooks for free which are promoted freely by the author itself for a limited time.
Thanks for reading this article about how you can get Best Selling Kindle Books For Free From Amazon. I think you have got this fantastic deal from amazon. For More Deal Visit On Amazon Discount & Deals.