The engagement of billionaire industrialist Mukesh Ambani's son Anant Ambani to Radhika Merchant has sparked immense curiosity in India and beyond. After their traditional roka ceremony in December 2022, the couple had a lavish engagement celebration in January 2023. This has led many to wonder – have the childhood sweethearts gotten married already?
Their fairytale romance culminating in an extravagant engagement party has people eager to know more about this influential couple. This article takes a deep dive into their love story, from childhood friends to soon-to-be husband and wife.
Anant and Radhika have known each other since childhood, having grown up in similar social circles. However, their romantic relationship only blossomed years later. They have kept their dating life very private, only making rare public appearances together over the years. But their families have now wholeheartedly embraced their union, celebrating it in true Ambani style.
As everyone anxiously awaits news of their wedding, let's explore the beautiful love story of Anant and Radhika.
When Did Anant and Radhika's Love Story Begin?
Anant Ambani and Radhika Merchant have been friends since childhood but they didn't start dating each other until much later. After finishing school, Anant went to Brown University in Rhode Island while Radhika headed to New York University. During this time apart, their friendship slowly blossomed into love.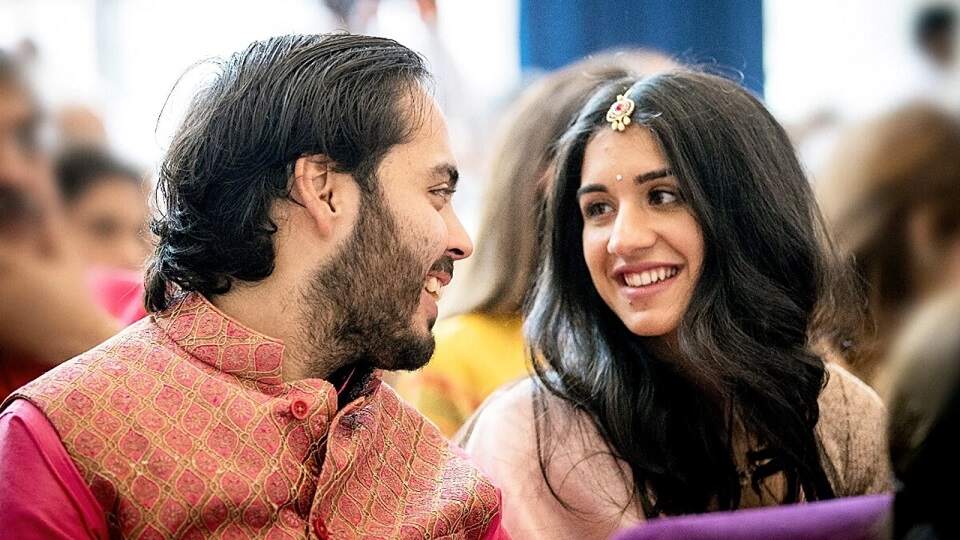 The first hints of their relationship came in 2018 when they were photographed together in matching outfits, igniting rumors of them being a couple. However, it took appearances together at major Ambani family events for their romance to truly become public.
How Did Radhika Become a Part of the Ambani Family?
Radhika Merchant cemented her place as Anant Ambani's partner by attending his siblings' weddings in 2018 and 2019. At the lavish wedding ceremonies of Isha and Akash Ambani, Radhika could be seen participating in family rituals and posing for photos. Her presence indicated that she was now considered a member of the inner Ambani circle.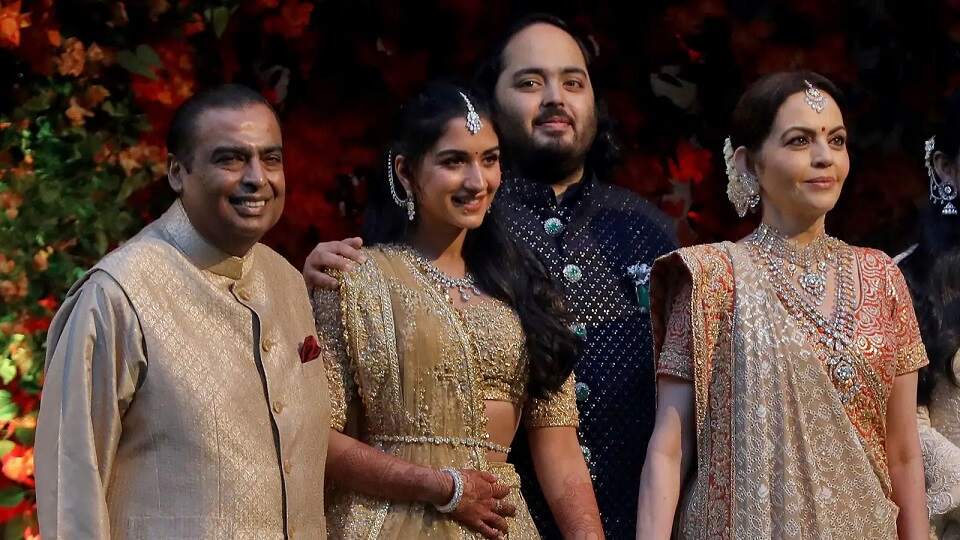 Radhika continued to accompany Anant and his family at important occasions like Prithvi Ambani's first birthday celebration in 2022. The same year, the Ambanis also hosted an extravagant arangetram ceremony to mark Radhika's graduation as a Bharatnatyam dancer.
By including her in intimate family events, the Ambanis made it clear that Radhika was set to be their daughter-in-law.
When Did Anant and Radhika Finally Make their Relation Official?
After years of keeping their relationship private, Anant Ambani and Radhika Merchant finally made it official with a traditional roka ceremony in December 2022. Their families gathered for the intimate ritual at the Shrinathji Temple in Nathdwara. This traditional betrothal marked the first official confirmation that the childhood friends were now committed partners.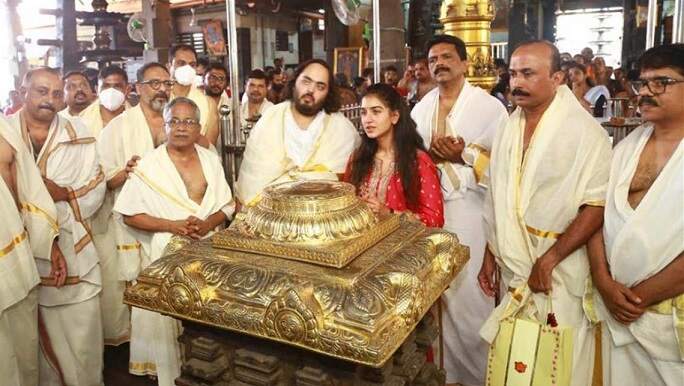 Just a few weeks later in January 2023, the Ambanis hosted a glittering engagement party for Anant and Radhika. The lavish celebration saw politicians, cricketers and Bollywood stars gather to bless the couple on this milestone. Anant and Radhika performed to congratulatory dances by their parents, before exchanging rings and posing for the paparazzi. This dazzling engagement party cemented their status as the newest power couple in town.
What's Next for Anant and Radhika?
The roka and engagement were only the prelude to the most anticipated celebrity wedding of 2023. While an official date is yet to be announced, rumors suggest Anant and Radhika will tie the knot later this year in an extravagant multi-day ceremony.
If the past Ambani weddings are anything to go by, the country can expect several days of festivities, A-list guests and lavish decor at the next big Indian wedding. Love is certainly in the air, with two of India's most influential families coming together.
What Makes Anant and Radhika So Compatible?
Having known each other for so long, Anant and Radhika's relationship stands on a foundation of true friendship and compatibility. Both come from business families – Anant, as part of the Ambani empire and Radhika as the daughter of pharma tycoon Viren Merchant. This shared background means they connect intellectually too.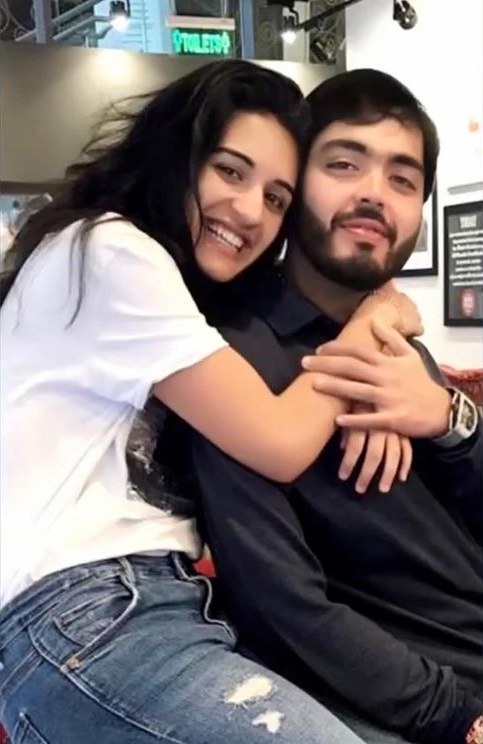 They also make a striking pair visually. At all the Ambani celebrations, they have wowed onlookers with their effortless chemistry and gorgeous designer outfits. According to sources, what really connects them is their shared spirituality and love for India's traditions. Just looking at their roka and engagement pictures, their genuine affection and comfort with each other shines through.
As their wedding nears, fans are rooting for this childhood friendship turned fairy tale romance.
What is Radhika Merchant's Background?
Unlike some high-profile society brides, Radhika Merchant has impressive credentials of her own. She graduated from New York University with a degree in Politics, Economics and Law. Radhika serves as a Director on the board of Encore Healthcare, the firm run by her father Viren Merchant.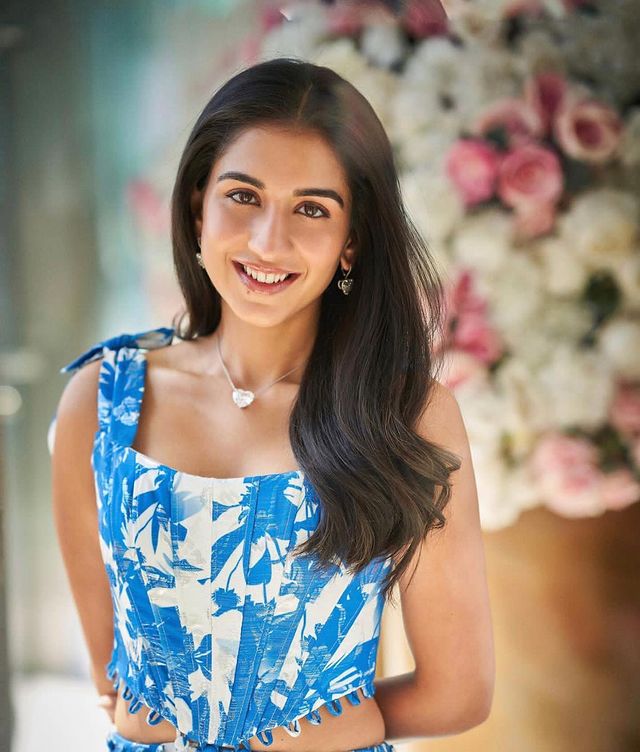 A trained Bharatnatyam dancer, she gave her professional arangetram performance in 2022 under the guidance of her guru. Active on social causes, Radhika has taught English to municipal school kids and is involved with an NGO for deaf children. With beauty, brains and compassion, she is a perfect match for Anant Ambani.
How Did Anant Ambani Celebrate His Engagement to Radhika?
The usually private Anant Ambani reveled in the celebrations for his engagement to Radhika Merchant. At the grand party hosted by his parents, Anant and Radhika walked hand-in-hand to meet the guests. They even had an adorable cake-cutting ceremony recreating their proposal moment.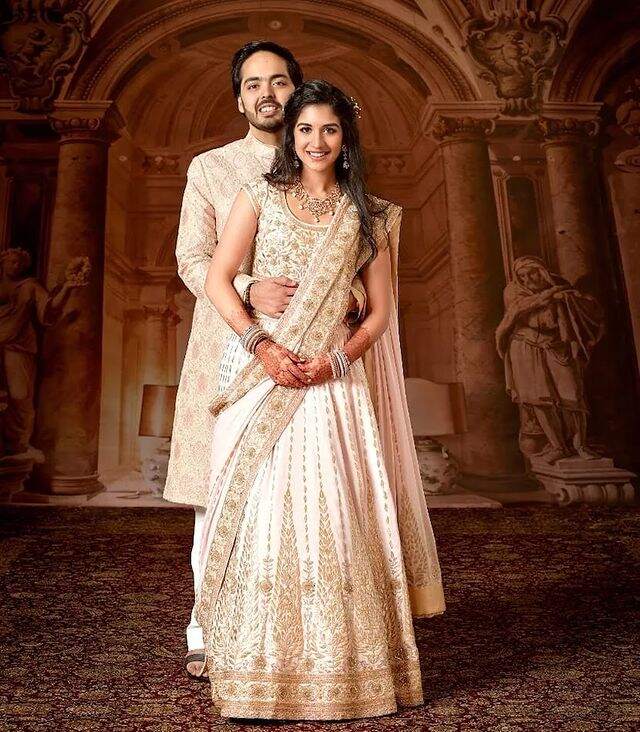 Anant performed to a Bollywood dance medley with his mother Nita and sister Isha. Radhika also danced beautifully to a Kathak routine. The couple looked elated to be celebrating their relationship so publicly, posing for the cameras before sealing the evening with a dance together. Based on Anant's megawatt smile throughout, it was clear he was over the moon to be engaged to his childhood sweetheart.
What Made Anant and Radhika's Engagement so Grand? Watch the Photos
Extravagance and elegance were the hallmarks of Anant and Radhika's larger-than-life engagement party. Hosted at the Ambanis' Mumbai residence Antilia, the engagement brought together politicians, sports stars, actors and business tycoons.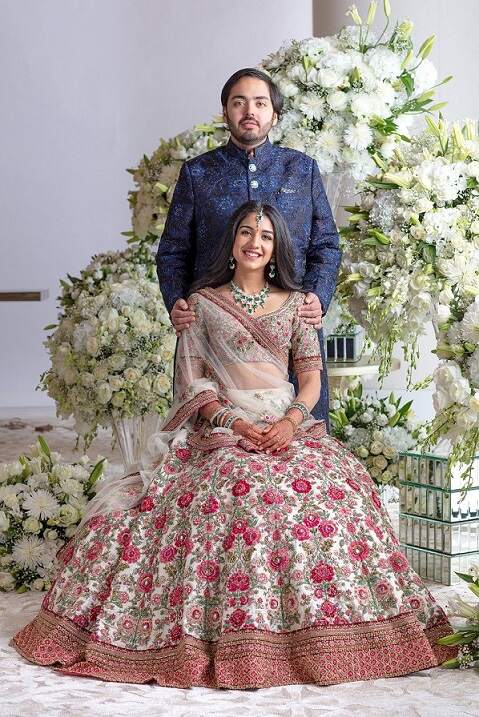 Radhika dazzled in a pink lehenga by designer Manish Malhotra while Anant looked dapper in a deep purple sherwani. The decor by Khushiyaan Events featured thousands of flowers, a rainbow cake and lavish buffet. No expense was spared to make this a night to remember for the new couple on the block.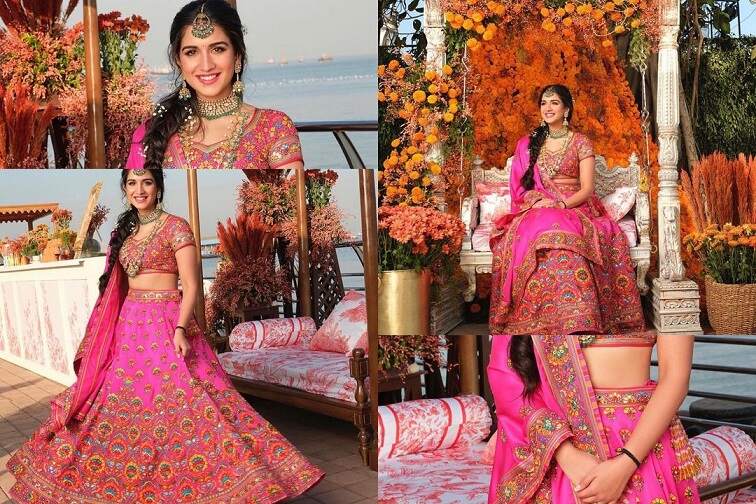 True to the Ambani way, Anant and Radhika's engagement party was a showcase of love, happiness and Indian traditions. Their magical fairytale romance now has the entire nation enchanted.
Are Anant Ambani and Radhika Merchant Married? Know the Marriage Date
While Anant and Radhika are now officially engaged, they have not yet tied the knot in a wedding marriage ceremony. Here are some key facts:
Anant and Radhika have known each other for years and been dating, though they kept their relationship very private initially.
Their families only acknowledged their union publicly in the last few months through traditional Indian pre-wedding rituals like roka and engagement.
These ceremonies formalized their commitment to marry, but were not actual wedding vows.
The Ambanis and Merchants have not made any announcement yet regarding a wedding date or preparations.
Media speculation suggests a potential marriage date in late 2023 based on astrological predictions and auspicious dates.
However, no concrete details are available on when or where Anant and Radhika will be getting married.
Given the scale of recent Ambani family celebrations, industry insiders expect an lavish multi-day wedding extravaganza when the time comes.
So in summary – while Anant Ambani and Radhika Merchant are engaged to be married, they have not yet officially tied the knot. The actual wedding, which is likely to be an opulent affair given the families' status, is expected sometime later in 2023.