Bizgurukul has been making headlines lately, but not always for the right reasons. This edtech startup promises opportunities to "learn, implement and grow" through online courses focused on digital entrepreneurship and skills. However, several red flags and controversies have raised questions about whether Bizgurukul is a scam.
This in-depth investigation uncovers the truth about Bizgurukul – its background, business model, course quality, user complaints, reviews and more. Read on to find out if this platform is worth your time and money.
What is Bizgurukul?

Bizgurukul is an edtech platform that offers online training courses related to digital marketing, entrepreneurship, finance, soft skills and more. It aims to help learners acquire skills that can translate into online earning opportunities.
Bizgurukul Private Limited was incorporated in May 2020 under the Ministry of Corporate Affairs. The founders are Ritwiz Tiwari and Rohit Sharma.
The official website is www.bizgurukul.com. It gets around 1 million visits per month, mostly from India.
Course bundles are priced from Rs. 2000 to Rs. 20000. Offerings include digital marketing, branding, social media management, finance and personality development.
Bizgurukul claims a pool of over 200 trainers and 2 lakh students enrolled. It offers live Q&A, training sessions and course completion certificates.
At first glance, Bizgurukul seems like any other edtech platform for online learning. So where does the controversy stem from? Let's analyze further.
How Does Bizgurukul Work? The Business Model Explained
Bizgurukul primarily makes money in two ways:
1. Selling Course Bundles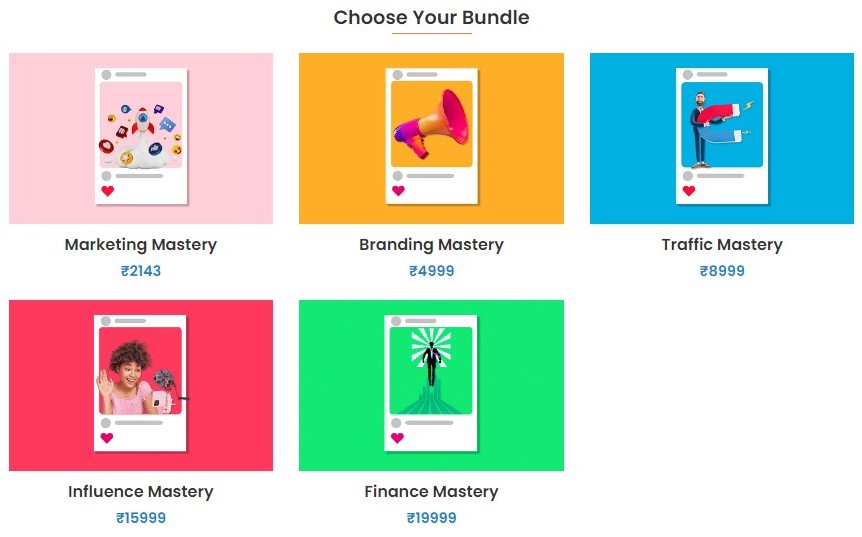 This includes bundles like Marketing Mastery, Branding Mastery, Traffic Mastery, Traffic Mastery, Influence Mastery, Finance Mastery etc. priced from Rs 2000 to Rs 20000. Learners have to purchase any course bundle to gain access.
2. Affiliate Marketing Program
Bizgurukul incentivizes existing users to promote its courses. For every new user referred, the referrer gets a high commission. This ranges from 50-70% of course fees.

So in a nutshell, Bizgurukul focuses on acquiring users via affiliate marketing, who in turn must purchase the company's own high-priced courses.
This strategy of combining education and affiliate marketing has come under criticism, as we'll see next.
Bizgurukul User Reviews – Is it Real or Fake?
User reviews and complaints about Bizgurukul on platforms like Trustpilot reveal some problematic aspects behind the glitzy facade:
High Course Prices vs Low Value
Bizgurukul's course bundles are priced excessively high compared to perceived value. Similar courses on platforms like Udemy cost a fraction of the price.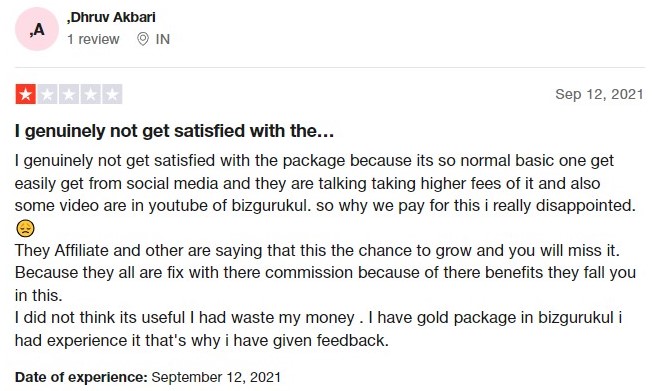 Many reviews call their course content basic, substandard and freely available on YouTube. Users feel they did not gain skills worth the investment.
Affiliate Marketing Focus
Reviews mention the platform focuses heavily on promoting its affiliate program rather than education quality. Users feel pushed to refer others only to earn commission.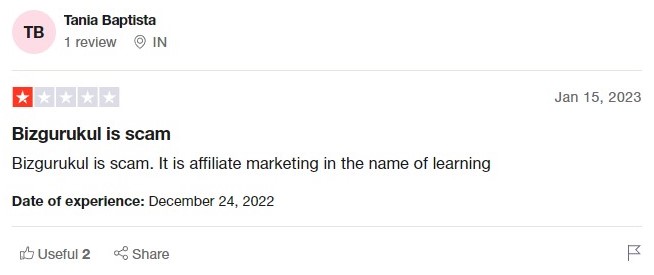 Some point out Bizgurukul resembles money circulation schemes due to this approach. You pay for overpriced courses and make returns by referring others.
Refund and Support Issues
Multiple users faced problems getting refunds within the 24 hour window due to delays by referrers. If you analyze reviews on trustpilot then most of the reviews says, "Bizgurukul is a Big Affiliate Scam". They don't recommend people to join Bizgurukul.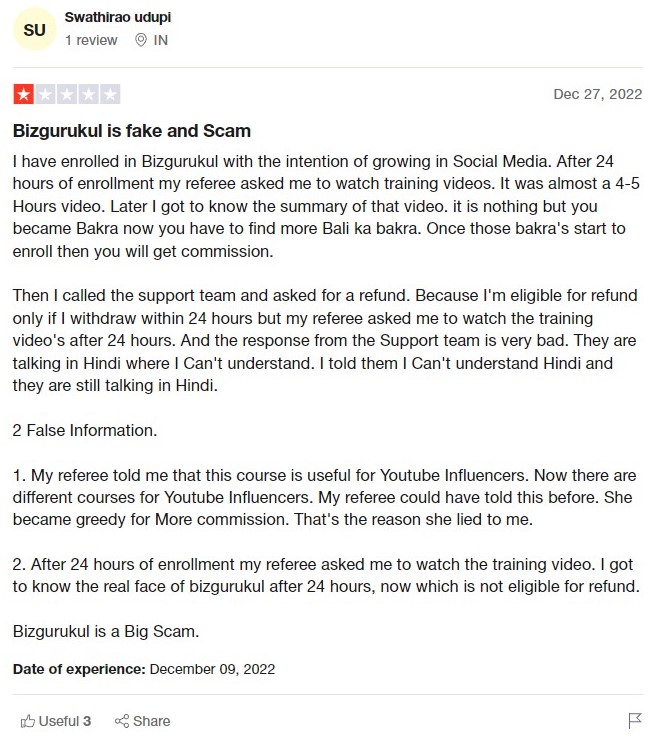 Others complained of rude customer support unable to communicate properly in English and resolve issues.
Deceptive Claims
Several users say they felt misled by income claims made by referrers. The promised earnings were unrealistic and not achieved after purchasing courses. On the other hand, some says, "It is a complete waste of time and money".

While a few positive reviews mention decent earnings, they seem to be a minority compared to negative experiences.
Investigation of Bizgurukul Courses: Worth it?
Next, I analyzed some of Bizgurukul's courses directly to gauge their quality and value justification:
Marketing Mastery Course
15+ hours video content
Covers digital marketing overview, SEO, Google Analytics etc.
Trainer has no proven expertise or credentials
Explanation is mediocre, limited practical guidance
Most concepts can be learned free on YouTube or Google
Verdict: Not worth the Rs. 2143 price tag
Branding Mastery Course
8 courses, 67+ hours videos
Topics like brand strategy, social media branding etc.
Trainers are unknown with no subject matter expertise
Content seems outdated, unstructured and vague
No actionable frameworks or expert guidance provided
Verdict: Overpriced for the quality offered
Finance Mastery Course
26 courses, 190+ hours content
Covers budgeting, accounting, trading, cryptocurrency etc.
Some trainers seem qualified but others have no finance background
Content is disorganized, dense and lacks practical examples
Better finance courses available on Udemy and LinkedIn Learning
Verdict: Very expensive, free resources offer similar knowledge
Based on this analysis, the courses do not seem worthwhile given their steep pricing and mediocre delivery. You can find far better training for a fraction of the cost on Udemy, LinkedIn Learning, great YouTube channels and more.
Is Bizgurukul's Affiliate Program Worth It?
Bizgurukul offers commissions from 50% to 70% on course sales via referrals
But you must first purchase their expensive courses to promote them
This "pay to promote" model is unlike most affiliate programs
Quality concerns and user distrust about courses may discourage referrals
Building an audience and promoting better quality products could yield better affiliate returns
Verdict: Not a recommended approach for affiliate marketing. Many other platforms allow free registration for affiliates.
Bizgurukul – Genuine Edtech or Elaborate Scam?
Looking at all the findings so far, these are the key facts about Bizgurukul:
Legit registered company, but has faced scam accusations
Courses are overpriced, poor quality, not worth costs
Business model focuses heavily on referrals and commissions
Multiple complaints about misleading claims, no refunds
Poorly trained support staff, inability to resolve issues
Free online resources provide similar if not better training
Based on these red flags, Bizgurukul resembles a sly affiliate marketing scheme disguised as an edtech platform. The company seems to profit mainly by pushing users to refer others, rather than delivering education value.
While it may not be an outright scam, users are generally better off avoiding Bizgurukul and finding more credible platforms for quality, affordable training.
You can self-learn high-income digital skills for free via YouTube, Google, Udemy, LinkedIn Learning, MOOCs, reputed institutes and more. Invest your time and money into genuine upskilling instead.
| | |
| --- | --- |
| Website Name: | Bizgurukul |
| Program Offer: | Online Course and Affiliate Marketing |
| Site Url: | bizgurukul.com |
| User Ratings: | 2.5 |
| Trust Score: | 3/10 |
| User Reviews: | According to users, Bizgurukul is a most likely an affiliate scam |
| Real or Fake: | Legal but Course Quality is not good as per price point. |
Conclusion: Key Takeaways on Bizgurukul's Legitimacy
Bizgurukul offers online courses in digital marketing, entrepreneurship and finance
But its exorbitant course pricing and poor delivery have raised red flags
Business model prioritizes referrals and affiliate commissions over education
Multiple negative reviews highlight issues like misleading claims, lack of refunds, poor support etc.
Independent course investigation reveals low value compared to the high costs
While legal, Bizgurukul exhibits traits of an affiliate marketing scheme disguised as edtech
Users are better off avoiding it and finding affordable, quality alternatives for digital skill building
So approach Bizgurukul carefully if you do plan to check it out. But your time and money are likely better invested in more credible online learning platforms. Make informed decisions and be wary of get-rich-quick gimmicks. Ultimately, there are no shortcuts to building expertise and an income – it requires diligent work!
Frequently Asked Questions (FAQs)
1. Is Bizgurukul Fake or real?
Bizgurukul is a real, registered company but has drawn flak for its practices. While courses are legitimate, they seem to be overpriced with subpar content. The excessive focus on affiliate commissions over training quality has raised doubts regarding the platform's authenticity and user benefit.
2. What value do Bizgurukul certificates have?
Bizgurukul course completion certificates seem to have little value in the job market or for advancing your skills. This is because of concerns over the quality of training provided versus the high costs. Certificates from more reputed institutes are usually preferred during hiring.
3. Is Bizgurukul legit or scam?
Bizgurukul is a registered company but exhibits traits of an affiliate marketing scheme disguised as an edtech platform. While not an outright scam, it has multiple red flags like overpriced, low-quality courses and a focus on referrals over education. Users are better off avoiding it and finding more credible alternatives.
4. How to Earn From BizGurukul?
You have to first purchase Bizgurukul's expensive course bundles, then promote them via referrals to friends, family and social networks. You can earn 50-70% commission on course sales you generate. However, this model has been criticized for profiting from referrals rather than delivering education value.
5. Are Bizgurukul courses worth the money?
No, Bizgurukul courses do not seem worth their high prices as per most reviews. The course quality is reportedly substandard given the costs involved. Users say the content is not structured well and lacks practical guidance compared to cheaper alternatives.
6. Can you get a refund from Bizgurukul?
Bizgurukul claims to offer refunds within 24 hours. But many users have complained they failed to get refunds due to delays by referrers in informing them about the process. The refund policy needs more transparency and better implementation.
Tags: Bizgurukul, MLM Scam, Earning Proof, Course Review, Quora, digital marketing, complaints, Real, scam score, Legit, contact number, Genuine, certificate, Scam, discount code, Authentic, Fake.